Mark Zuckerberg says it's a 'crazy idea' that fake news on Facebook influenced U.S. election
Facebook Inc. Chief Executive Officer Mark Zuckerberg rejected the idea that fake news on the social network influenced the U.S. presidential election and said echo-chambers aren't really a problem on the site.
The company co-founder was responding to criticism following Donald Trump's victory in the elections, from people who argued the company allowed false information to run rampant on its site and that its algorithm tended to amplify the voices people wanted to hear, instead of providing a full picture of what was going on.
That it influenced the election in any way is a pretty crazy idea
Zuckerberg, speaking at the Technonomy conference in Half Moon Bay, California, said the company certainly has work to do to improve the news feed, but said false stories were a small portion of the content shared.
"That it influenced the election in any way is a pretty crazy idea," he said. People vote based on their life experiences, and anyone who thinks fake news contributed to the outcome betrays a "profound lack of empathy" for Trump's camp, he said.
Facebook has constantly studied the effect of its news feed. Zuckerberg says the idea that it shields people from diverse opinions is a misconception — a particularly difficult theory for him to quash.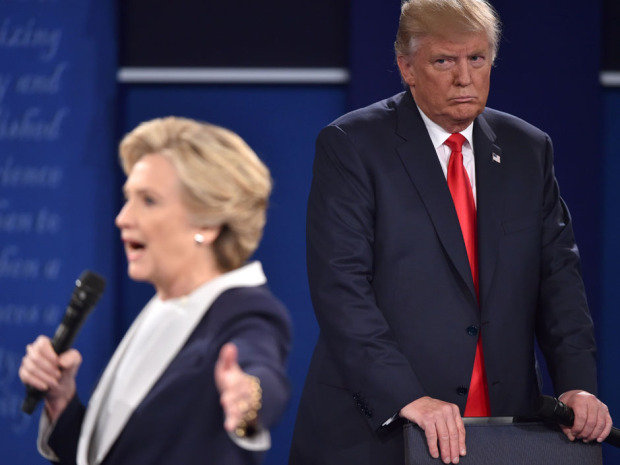 Paul J. Richards / AFP / Getty ImagesDonald Trump and Hillary Clinton during the second presidential debate at Washington University in St. Louis, Missouri
"All of the research we have suggests that this hasn't really been a problem," Zuckerberg said. People tend to have some friends with diverse opinions, but Facebook's research shows people tend to ignore their posts. "The biggest filter in the system is not that the content isn't there, but just that you don't click on it."
Zuckerberg said the balance it takes to improve Facebook's news feed has always been difficult. Earlier this year, the company faced criticism from conservatives after reports of bias in its trending topics section. The company met with conservative leaders and later cut the editorial employees working on the feature, choosing instead to leave ranking decisions to algorithms.
"As norms change and as people want to see more news, we will have to continue to evolve the guidelines to reflect the values that the community holds," Zuckerberg said. "It's tough to make everyone happy, but we care, and we care about learning quickly and making this better and better and better."
Related

When asked about the election result, Zuckerberg said that the country would have a lot of work to do either way.
"One thing that I think it's easy to lose track of is, most progress is made by private citizens," not the government, he said. "That progress will continue."