Marijuana Stocks Rally as Speculators Eye Gains
The growth of a new industry has brought about unprecedented interest in marijuana companies that has seen some stocks surge a much as 1,700%. Trading volumes of marijuana stocks have jumped almost threefold in the past week. Speculators continue to pour in money based on the expectation that the nascent recreational marijuana industry will flourish to reach sales of over $30 billion in the US, according to research by Bloomberg Industries.
Demand for cannabis products has soared in Colorado since the first legal sales of recreational marijuana started on January 1, prompting a rise in the number of licensed medical marijuana growers and retailers in the state.
Colorado expects the budding marijuana industry to generate sales of around $600 million and bring in tax revenues of almost $70 million. The state of Washington will be the next to legalize cannabis, after voters approved the recreational sale of weed in November 2012, the same month that voters in Colorado approved its sale.
Other states are expected to follow suit after noticing the benefits of additional tax revenues along with the savings gained from taxpayers' money that will now not be used to prosecute small time pot offenders. According to a report by ThinkProgress one in 20 arrests in Colorado is marijuana related.
The state of California saved an estimated $30 million dollars a year in lower police costs after it legalized marijuana, according to the JFA Institute.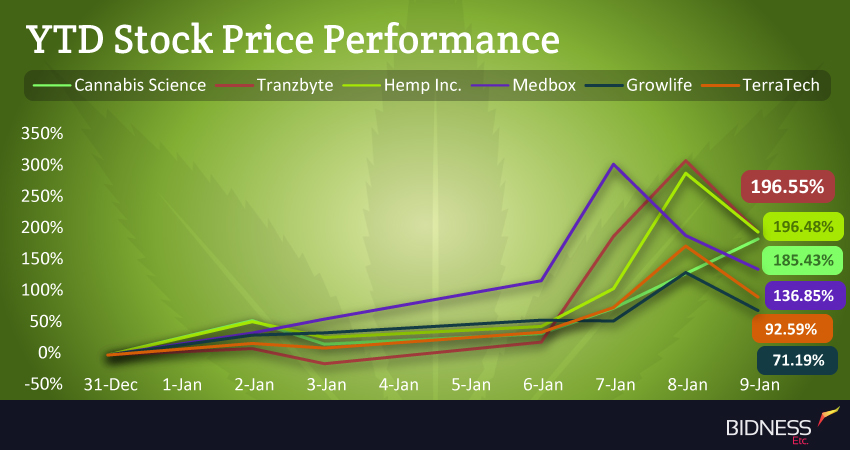 Stock Price Gains
It seems as though everyone wants a piece of the potential gains as the recreational marijuana industry moves forward and legal weed becomes part of the documented economy. Businesses that stand to benefit from the rise have gotten a lot of investor interest lately.
Prices of most marijuana stocks (which mostly trade as penny stocks on illiquid markets) have gained considerably since the legalization. But they were also driven down sharply yesterday, as speculators booked profits.
Shares of GreenGro Technologies, Inc. (GRNH), a medical marijuana services provider, had risen over 1,700% in the first five trading days of the year. But the stock eventually shed more than 50% of its value yesterday as investors realized gains.
Tranzbyte Corp. (ERBB), a marijuana distributor in Colorado, which witnessed a 500% rise in its share price in the first week of 2014, declined almost 28% yesterday. Industrial hemp manufacturer Hemp, Inc.'s (HEMP) stock price also fell 24% yesterday, but was up 40% in after-hours trading. Hemp's share price has risen nearly 196% this year.
Another favorite stock of marijuana investors is West Hollywood-based Medbox Inc. (MDBX), whose stock jumped to a one-year high of $73.9 on Wednesday, on the back of favorable news about rising orders for its marijuana vending machines, but then fell 19% yesterday, to close at $43.25.
Terra Tech Corp. (TRTC), an equipment provider for marijuana growers, which had seen stock price gains of 148% this year, shed 30% to close at $0.26.
Meanwhile, the stock price of Growlife Inc. (PHOT), also an equipment maker for pot growers, declined 26% yesterday.
Cannabis Science, Inc.'s (CBIS) shares on the other hand were up 24% yesterday, to close at $0.147. The marijuana research and development company has seen its stock price increase more than 350% this year.
Significant Risks
It's clear that investors and speculators have been frantically following developments in the industry, and have bid up the stocks of companies that are involved in the production and distribution of marijuana. Almost all of the pot industry stocks that are publicly listed are thinly traded and change hands through over-the-counter (OTC) Pink Sheets.
Investing in such companies carries a significant amount of risk since the stocks are not heavily traded, and the companies are not required by the Securities and Exchange Commission (SEC) to file quarterly financial updates.
In some cases it has been reported that these companies are run by individuals who have been previously convicted of federal drug offenses. Investors looking for stable marijuana companies to invest in should be wary of pump and dump tactics, in which owners initially hype up their companies, only to trigger a large scale sell-off once the stock price gains momentum after generating substantial interest from investors.
Most marijuana-related stocks currently have astronomical valuations, often without stable company revenues. Despite considerable expectations of growth and the recent hefty gains seen by some of the most actively traded pot stocks out there, investors have nonetheless been advised to be wary of scams.
In August last year, the Financial Industry Regulatory Authority (FINRA) issued a warning against some of the marijuana stocks trading on the OTC markets: "Con artists behind marijuana stock scams may try to entice investors with optimistic and potentially false and misleading information that in turn creates unwarranted demand for shares of small, thinly traded companies that often have little or no history of financial success."
Frank Ingarra, head trader at Connecticut-based NorthCoast Asset Management LLC, said in an interview: "There might be one or two that survive, but having seen crazes like this, people have been burned by them a lot. The average investor should think twice."
There are still some challenges that businesses in the industry need to get around in order for them to succeed. For example, the marijuana industry is still shunned by banks and financial institutions, which have been barred by federal authorities to do business with marijuana-related entities. Moreover, cannabis and marijuana products are still illegal under federal law, and inter-state business of marijuana is still a federal crime.
Regardless of the inherent risks, investors will be following major developments in the marijuana industry very closely.