The Madness of College Football
Via Jon Chait, a Marist poll offers statistical confirmation of what we all know to be true anecdotally—there's a huge regional gap between the Northeast and "real America" in terms of watching college football: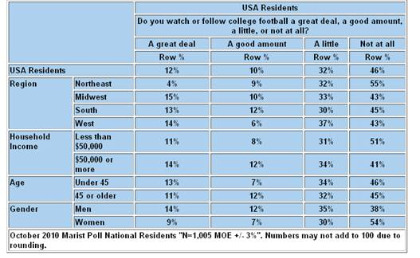 Chait's gloss:
There's almost no decent college football in the region, and most college graduates thus went to schools with terrible football, and many of them faintly (or not so faintly) look down on schools where football was a major part of the campus experience.
I think it's too bad we have this kind of regional breakdown, because it makes it a bit difficult to talk sensibly about the fact that there's a semi-important underlying public policy issue here. Institutions of higher education actually serve an important social function and, as such, receive large quantities of explicit and implicit subsidies. At the same time, skyrocketing college education costs are a major issue for many families. So it's fairly important that these subsidized institutions not running around wasting significant sums of money on undertakings that have nothing to do with their social function of promoting research and education. Like, for example, running money-losing sports programs.
But my suspicion is that many alumni of the non-northeastern universities that are at the core of the problem hear this critique as a form of snobbish "looking down" at their alma maters.