Luck of the Irish vs. economic policy of the Irish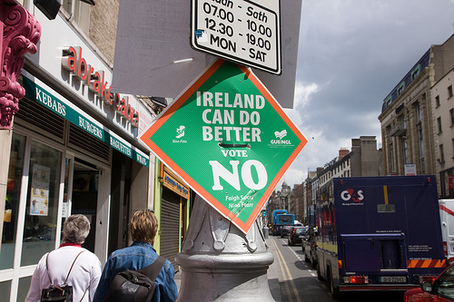 Liz Alderman has a terrific piece this morning assessing how well -- or, to be more accurate, how poorly -- austerity economics worked for Ireland. As she reports, when the collapse hit, the small, heavily indebted country hiked taxes and raised spending. And in some tellings of the crisis, that should've worked. The European Central Bank is saying that "the idea that austerity measures could trigger stagnation is incorrect," because "confidence-inspiring policies will foster and not hamper economic recovery." Ireland, however, stagnated.
As Paul Krugman points out, their theory was exactly what the ECB advised: "When our public finance situation blew wide open, the dominant consideration was ensuring that there was international investor confidence in Ireland so we could continue to borrow," said Alan Barrett, chief economist at the Economic and Social Research Institute of Ireland. But a few years on, unemployment is at 13 percent and the absence of government stimulus contributed to the country's economy shrinking 7.1 percent last year. It's a mess.
For a variety of reasons, Ireland was always going to get hit pretty hard if a financial crisis befell the world in late 2007. But it didn't have to be this bad. It does seem, however, that Ireland made the wrong choice: They focused on lifting uncertainty around their debt rather than lifting uncertainty on the government's commitment to fighting the recession.
As it happens, a paper came across my desk this morning that tests this exact question: Using a lot of firm-level data, Ruediger Bachmann, Steffen Eistner and Eric R. Sims find that "high uncertainty events are a mere epiphenomenon of bad economic times: recessions breed uncertainty." You can read an ungated version here (pdf). The paper, as I understand it, tries to test the premise that economic uncertainty drives firm behavior in downturns and finds it wanting. The authors find that insofar as there's uncertainty, it's mainly a byproduct of recession, which is what's causing the firm to hold back. So without a plausible plan for getting out of the recession, the uncertainty is never going to lift.
Photo credit: Infomatique/Flickr.





Economic policy - Economic - Paul Krugman - Social Research Institute of Ireland - Social Sciences