Living Living Economics
|Peter Boettke|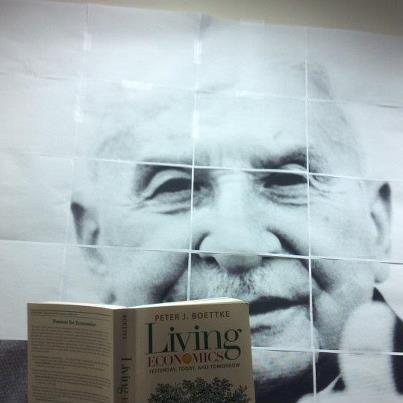 A group of my students and the indespensible Peter Lipsey have created a Facebook album on my book, Living Living Economics.  I am biased no doubt, but I was pleasantly surprised by this and found it to creative and very entertaining.
Here is a review of the book that has appeared in Finland.  And over at Amazon, the book is being sold in a package with Larry White's The Clash of Economic Ideas.
The Independent Institute has produced a detailed summary as well.
As I have explained on multiple ocassions, this particular project was inspired by a trip that Chris Coyne and I made to Universidad Francisco Marroquin in June 2011, and we were both so impressed with UFM and the dedication to ideas and the communication of ideas through education and research that in conversations between us this project was conceived.  UFM is a very unique place and please do consider supporting their efforts to educate.  Check out the Friends of UFM and consider joining the Manuel F. Ayau Society.