LinkedIn shares fall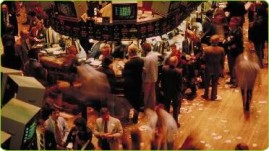 New York Stock Exchange
While it may be too soon to call it an outright "tech bubble", LinkedIn's share decline on Monday following last week's explosive IPO debut suggests something is inflated.
Company shares fell nearly 7 percent Monday to $86.62 compared to last Friday's closing price. On Thursday, LinkedIn bowed on the NYSE at a price of $45 a share, soon soared to $122.70, and then ended the day at $94.25 — a 109 percent value boost.
Now that the dust has cleared a bit, analysts seem unsurprised that the professional networking site's share price has lagged in the last two days (shares stood at $88.53 as of this writing). MarketWatch's Shira Ovide offered a few key factors that help explain LinkedIn's amazing first-day performance (and potential decline):
LinkedIn is trading on buzz: Investor demand has surged for this type of social media stock for a while. As more investors now question the company's valuation, more may be willing to sell short.
LinkedIn offered a small share float: Only 7.8 million shares were sold, making supply tight for such hot demand; another 85 million shares come available in 180 days.
Speculation in general tends to result in furious stock trading.
Some observers are even more perplexed at the company's valuation than they were a few days ago. "The winds are blowing against this thing being worth $9 or $10 billion," Lawrence Haverty of GAMCO Investors told Bloomberg. "Wall Street has created an artificial price because they didn't release that many shares. They underestimated the demand. This happened all the time during what we now affectionately call the bubble period."
Still, others are optimistic at LinkedIn's prospects, citing founder Reid Hoffman's previous success as an angel investor and the company's multiple revenue streams. The company will likely see its near-term operations improve following its IPO, but as former Treasury Secretary Lawrence Summers warned in a recent speech, "Who could have imagined that the concern with respect to any American financial asset, just two years after the crisis, would be a bubble?…that concern is increasingly raised with respect to American technology, with respect to certain other American assets."
~
Photo by Blatant World, used under a Creative Commons license.