Labor Markets, Immigration, and Inequality
Here's Mickey Kaus' proposed solution to inequality:
If you're worried about incomes at the bottom, though, one solution leaps out at you. It's a solution that worked, at least in the late 1990s under Bill Clinton, when wages at the low end of the income ladder rose fairly dramatically. The solution is tight labor markets. Get employers bidding for scarce workers and you'll see incomes rise across the board without the need for government aid programs or tax redistribution. A major enemy of tight labor markets at the bottom is also fairly clear: unchecked immigration by undocumented low-skilled workers. It's hard for a day laborer to command $18 an hour in the market if there are illegals hanging out on the corner willing to work for $7. Even experts who claim illlegal immigration is good for Americans overall admit that it's not good for Americans at the bottom. In other words, it's not good for income equality.
I agree with Will Wilkinson that the moral math here is suspicious. If we banned all health and nutrition assistance to the poor, this would cause poor people to start dying off and the gini coefficient would show a reduction in inequality. Or as Wilkinson says, "nation-level income inequality would drop if the government herded all the poor people onto boats and dropped them off on a distant island."
But what about Kaus' example here of the great late-nineties immigration crackdown pioneered by Bill Clinton. Do you remember that? I don't remember that. I don't remember it because it didn't happen. Deportations reached a record high just this year, not in the late nineties. What happened in the nineties was that a tight labor market led to a spike in immigration.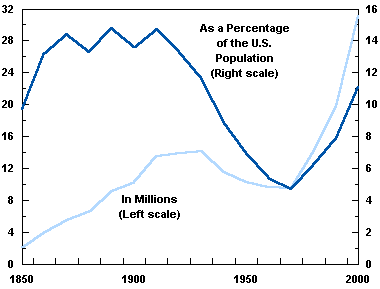 Curtailing population growth might lead to rising real wages in an agricultural society or a small country with an economy based on fossil fuel exports, but that's not how the American economy works. If you want to tweak the distributive implications of US immigration policy the economically and ethically sensible thing to do is to increase legal immigration of high-skill people. The tightness or lack thereof of the labor market is mostly a consequence of monetary and fiscal policy, with more rapid growth of the labor force making it feasible to have more growth without risking inflation.