The Kids Are Allright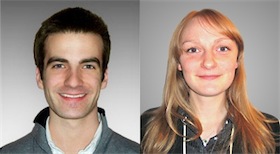 One of the results of the NDP surge in the Canadian election is that the left-wing party has now elected a ton of political novices to the Canadian parliament. That includes four McGill students two of whom are undergraduate co-chairs of the McGill NDP. Long-suffering college Democrats take note!
And actually the student-candidates aren't the weirdest ones of the bunch:
The most remarkable example of candidates sweeping into office on Jack Layton's coattails is Ruth Ellen Brosseau, who won in Berthier-Maskinongé. Ms. Brosseau – who lives in Gatineau, Que. – spent most of the campaign working in an Ottawa pub, where she is an assistant manager. That meant she was nowhere to be seen in the riding, which is about a three hour's drive east. The party did not object when she followed through with a planned mid-campaign vacation to Las Vegas.
She didn't grant any interviews during the campaign and the party acknowledges she needs to improve her French, even though residents in the riding are almost exclusively francophone. [...]
There were suggestions during the campaign that some NDP candidates harboured sovereignist sympathies, while foreign affairs minister Lawrence Cannon was defeated by the NDP's Mathieu Ravignat, who once ran for office as a Communist.
Back-bench opposition MPs don't really have much in the way of responsibility, so lack of political experience isn't necessarily a huge deal, but I assume that not speaking the same language as your constituents is going to be a challenge.