Keep an eye on May stock market peaks, says Richard Russell
Article written by Prieur du Plessis, editor of the Investment Postcards from Cape Town blog.
Richard Russell, 88-year-old writer of the Dow Theory Letters, called a bear market for U.S. stocks a few months ago. An update on his latest thinking is reported below.
Question: Richard, everybody has emotions. So where are your emotions regarding this market? From an emotional standpoint, be honest, are you really bullish or bearish?
Answer: If the Averages confirm that this is truly a bear market, I'll have mixed emotions. On the one hand I will have been proven right on my bear market call, and that will be a boost to my ego. But I can't say I'd be happy we're in a primary bear market.
But if the Averages close above their May peaks, and all my charts point to a bull market, I'll have been proven wrong on my bear market call, and that will be a bruise to my ego.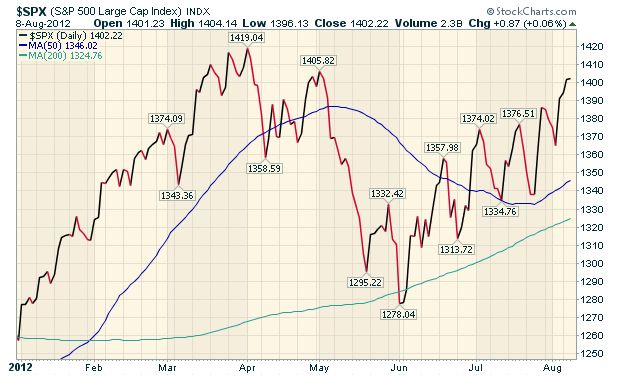 Source: StockCharts.com
Nevertheless, I'd much rather be living through a bull market than a bear market – a bull market would be far better for me and my kids and for my business. So call it strange, but from an emotional standpoint I'd prefer to have been wrong on my bear market call, and I'd prefer that we're in a re-confirmed bull market.
Therefore, instead of confusing my subscribers with a lot of ego-boosting baloney, I'm just going to call this market the way I see it, being as honest and unemotional as I can possibly be.
If we are truly in a primary bear market, I have an intuition that it could turn out to be the worst bear market in history – and that's another reason why I secretly hope I have been wrong on my bear market call.
Another intuition – we will know the final answer as to whether we're in a bull or bear market by October.
[PduP: Yesterday's closing levels of the benchmark U.S. indices were within reach of the May peaks: Dow Jones Industrial Average – 13,176 vs 13,279 and S&P 500 Index – 1,402 vs 1,419.]
Source: Dow Theory Letters, August 7, 2012.
Did you enjoy this post? If so, click here to subscribe to updates to Investment Postcards from Cape Town by e-mail.
Keep an eye on May stock market peaks, says Richard Russell was first posted on August 9, 2012 at 7:59 am.©2011 "Investment Postcards from Cape Town". Use of this feed is for personal non-commercial use only. If you are not reading this article in your feed reader, then the site is guilty of copyright infringement. Please contact me at wordpress@investmentpostcards.comFeed enhanced by the Add To Feed Plugin by Ajay D'Souza