June Railtime Indicators Report Shows Further Strength in Rails
The Pragmatic Capitalist submits: From the AAR:
U.S. freight railroads riginated 1,153,675 carloads in May 2010, an average of 288,419 carloads per week. That's up 15.8% from May 2009 (which is the second highest percentage gain ever, behind April 2010 — see chart below right) but down 11.8% from May 2008.
U.S. railroads averaged 294,758 carloads per week in April 2010 and 288,793 in March 2010. Thus, May 2010's average was actually down slightly from those months (see chart below left). One month does not a trend make, but it would obviously be worrisome if the decline continued.
In May 2010, 18 of the 19 major commodity categories saw carload gains compared to May 2009, but just one saw carload gains compared to May 2008. Commodities with the largest carload gains included coal (up 32,081 carloads, or 6.8%), steel and other primary metal products (up 19,641 carloads, or 96.6%), and motor vehicles and parts (up 19,138 carloads, or 58.1%). The tables and charts beginning on page 5 have much more commodity-level detail.
U.S. railroads originated 867,516 intermodal trailers and containers in May 2010, an average of 216,879 per week (see chart top of next page). That's the highest average since October 2008, up 18.9% from May 2009, and the largest year-over-year monthly gain since AAR records begin in 1990. Intermodal volume has risen in absolute terms for three straight months.
As was the case in April 2010, the big year-over-year percentage gains in May 2010 U.S. rail traffic were partly a function of easy comparisons (May 2009 was a miserable month for rail traffic) and partly a function of real traffic growth.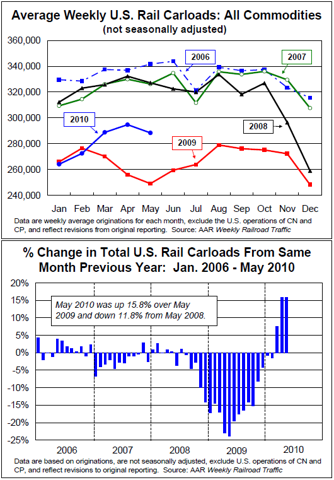 Complete Story »