Jordan, once seen as a diplomatic footnote, now a major player in the Middle East
On Friday, as Prime Minister Stephen Harper and his wife Laureen visited Jordan's greatest tourist marvel — the ancient sandstone city of Petra, immortalized in popular culture as the place where Indiana Jones found the Holy Grail — they were wrapping up a visit that seemed a mere coda to his Israeli tour.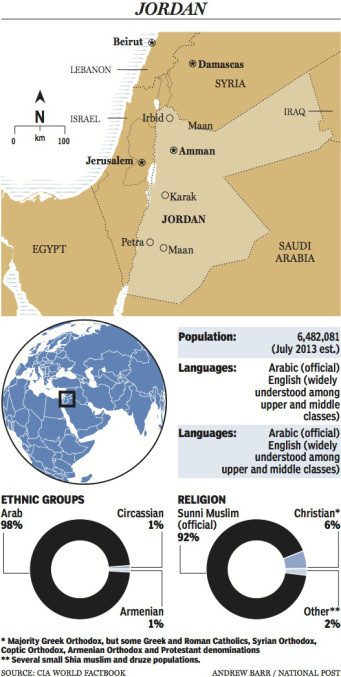 NPClick to enlarge
Jordan can seem like that, smack in the middle of the Middle East — bordered by Israel, Syria, Iraq and Saudi Arabia — but still somehow a diplomatic footnote, a place a Western leader might stop by on the way home from Israel.
Recent events have upended that stereotype, including the civil war in Syria and the push for peace between Israel and the Palestinians. In both conflicts, Jordan has been a major player, both by its own influence and as a vehicle for the international diplomacy of great powers. U.S. Secretary of State John Kerry was there the week before last, followed in short order by Israeli Prime Minister Benjamin Netanyahu.
"We view the Kingdom of Jordan as one of the most important partners on all levels in terms of commerce, in terms of development, in terms of security in this part of the world," Mr. Harper said this week in the capital, Amman. More than just politely diplomatic fluff, this praise was backed by real money: $100-million for development assistance to ensure the young "do not become a lost generation," on top of aid already pledged.
A further $5-million of Canadian money is to be directed at efforts to mitigate the threat posed by the Syrian military, especially its use of chemical weapons.
"Jordan has responded to the plight of Syrian civilians with unwavering compassion and generosity by accepting hundreds of thousands of refugees," Mr. Harper said. "Doing the right thing is often difficult. Canada is proud to be able to help Jordan address the development and security challenges it is facing as a result of the Syrian conflict."
Related

Jordanian diplomacy has taken on a special relevance for Mr. Harper, following his appointment last summer of the longtime head of his RCMP security detail, Bruno Saccomani, as ambassador. It raised eyebrows for the unusual choice, but it put a prime ministerial confidante with a security background into the hot seat during a time of regional upheaval, indeed open civil war in Syria.
King Abdullah II, Jordan's hereditary ruler who was educated at elite military academies in the UK and U.S., has weathered the Arab Spring better than perhaps any other leader, though he presides over a country divided ethnically and facing severe problems of lack of oil, water and employment.
"There are major challenges ahead of us in this region," said King Abdullah. "We continue to look to Canada's support working with us together to try and solve these problems. I know that, as brothers, we will be able to move forward on these challenges."
Three million Palestinians live there, having fled the 1948 or 1967 wars. Most are full citizens, but discrimination remains, in access to education and higher paying jobs.
In the north of Jordan, family ties straddle the Syrian border, so the first wave of refugees were welcomed. But as the war worsened and the flow increased, tensions built and a country with a mass unemployment problem suddenly found itself awash in cheap labour. Now there are at least 600,000 Syrian refugees in Jordan, far more than it can absorb on its own.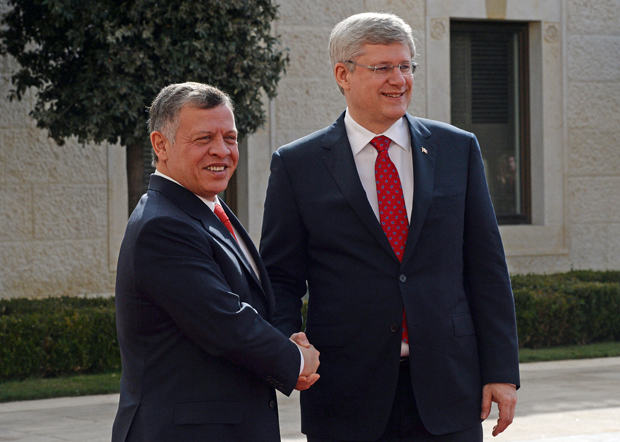 Sean Kilpatrick/The Canadian PressStephen Harper with Jordan's King Abdullah II on Jan. 22, 2014. "We view the Kingdom of Jordan as one of the most important partners on all levels in terms of commerce, in terms of development, in terms of security in this part of the world," Harper said this week
An election last year, boycotted by the Muslim Brotherhood, saw turnout of nearly 60%, and the king consulted parliament for the first time on the make-up of the cabinet.
"Jordanian diplomacy is very heavily centrally based on the king and on the role of the king and I think in significant part because of that, his position is secure," said Alan Henrikson, professor of diplomatic history and director of diplomatic studies at Tufts University's Fletcher School of Law and Diplomacy.
Geopolitically, Jordan is in some ways similar to Switzerland in the Second World War, when it became a neutral refuge for displaced people, Prof. Henrikson said. Jordan is not officially neutral, but it is in a similar situation, "right in the middle of things." A major difference is that, geographically, Switzerland has the luxury of protection by mountains, while Jordan is exposed.
The hundreds of refugees who cross the border from Syria each day do so unimpeded, under cover of night. Soon they end up in the sprawling vastness of the Zaatari refugee camp, by size the fourth largest city in the country.
"Jordan has resisted, rightly, being considered a 'buffer state,' because what that implies is that it almost has a policy of absorbing shocks. But the fact of the matter is the Jordanian space, between Israel and Iraq for example, during the 1990-91 war, and then the later one, was vitally important," Prof. Henrikson said.
More than a buffer, Jordan is a player, and wields a special influence in the Muslim world for its custodian role over the Islamic holy sites in Jerusalem. Though it has limited sway over Israel, this role puts it in the middle of peace negotiations.
"Clearly there still is a theological interest and Jordan has tried to elaborate some Islamic norms in support of the peace process, but Amman is not Mecca. It's not really a fount of philosophy or principle. But the king does nonetheless try to rise above the immediate situation that he's in, and his country is in, and it uses all sorts of symbolic ways in which to do that," said Prof. Henrikson.
There is also talk of a multinational force along the East Bank of Jordan River, to enforce the eastern border of a future Palestinian state, in the face of territorial claims by Israel. This discussion follows on military exercises by 19 countries in Jordan last summer, known as Eager Lion.
More recently, senior military figures, including General Tom Lawson, Canada's chief of defence staff and General Martin Dempsey, Chairman of the U.S. Joint Chiefs of Staff, met in Amman in a "hush hush" meeting, Prof. Henrikson said. "Even though no agreements were signed, at least that's what was stated, there clearly was discussion of the overall situation. It was meant, I think, partly to have a deterrent effect, to keep Assad in Syria from launching any attack across the border," he said.
Jordan, on this analysis, offers a forum in which to show Syria, but also Israel and the Palestinians, that the West is watching not just from New York and London, but also from Amman.
National Post
• Email: jbrean@nationalpost.com | Twitter: JosephBrean