John Boehner's Dilemma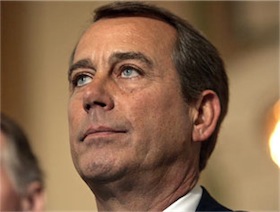 Brian Beutler's reporting/analysis of John Boehner's growing difficulty keeping his caucus together is excellent:
But Tuesday's outcome was nonetheless a mixed one for Boehner. It illustrated a reality he'd hoped to escape — that a large chunk of his caucus won't vote with him if he compromises. Indeed, the 54 Republicans who voted against the stop-gap legislation put him in an unenviable box: Either he kowtows to his right flank, and pushes initiatives that can't pass in the Senate; or he abandons them, as Sen. Chuck Schumer (D-NY) has suggested, and passes consensus legislation. The latter option, however, would require significant concessions to win Democratic votes, and further delegitimize himself with the Tea Party base.
If he chooses option (b), he will need Democratic votes. And that would abruptly flip the dynamic on Capitol Hill, where Republicans have been riding high since they trounced Democrats in the November elections.
If he chooses option (a) — if he and his party don't back off their pitched demand to fundamentally reshape the U.S. government — the consequences they'd hope to avoid — shutdowns and worse — will become all but inevitable.
I note that Boehner really has no one but himself to blame for this. The outcome of the 2010 midterms was the a Democratic President is in the White House, there's a Democratic majority in the US Senate, and a Republican majority in the US House of Representatives. If you simply count, that's two out of three for Democrats, meaning a Democrat-leaning policy agenda. Specifically the logic of the situation was that the way to avoid gridlock is for the the President to use his agenda-setting powers to focus attention on issues (like trade and K-12 education) where the Obama position is at odds with substantial elements of the Democratic base.
But instead Boehner himself vastly oversold the implications of the 2010 election and tried to say that he should be setting the agenda. That's natural, everyone likes to seize power for themselves. But the math just isn't there. A House Speaker faced with an opposition president and an opposition majority in the Senate has no real way to drive the political process. Any attempt to do so can only lead to gridlock, and gridlock in the current context means government shutdowns that Boehner wants to avoid.