Jobs or Services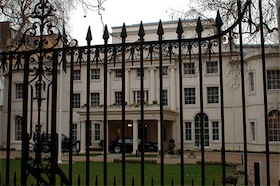 Courtland Milloy's screed against Adrian Fenty and people who voted for him is mostly just full of venom, but this one paragraph does highlight a genuine policy issue:
Having taken office promising to cradle the most vulnerable residents, Fenty set out almost immediately shooting the wounded. Closing homeless shelters. Forgetting about job-training programs. Firing city workers with the wave of a callous hand — black female heads of households more often than not.
What's important here is not so much the accuracy of the accusations (all cities faced budget woes during the downturn) as their structure. The homeless and the unemployed are certainly vulnerable and worthy of receiving high-quality services. But to follow those with "city workers" the way Milloy does seems to construe public employees not as the providers of public services, but as the beneficiaries of a public service—employment at taxpayer expense.
This is certainly how government works in, for example, Saudi Arabia. The country's natural resource wealth throws off lots of money, and the government uses it to fund a large public sector. This public sector does provide services, of course, but its main point is not to be a provider or services but to itself constitute a public service—the jobs themselves are the service. Alternative strategies would be the Alaska approach, where the revenue would simply be disbursed to citizens as checks, or the Norwegian approach where the revenue is used to finance pensions, which itself is a form of check-disbursal. Then in addition to whatever oil-related economic activity you have, you also have private sector economic activity driven by check-fueled consumption of goods and services. The downside to the Alaska/Norway approaches is that it doesn't work as well as a way for an authoritarian regime to disburse patronage and keep itself in power. Not coincidentally, Alaska and Norway are liberal democracies and Saudi Arabia is not.
And it's possible to construe Washington, DC as a kind of urban Saudi Arabia. The federal government and its associated lobbying and politicking throw off lots of money. But the nature of federal politics in a large city is that much, though not all, of that money is captured by outsiders and transients. The upside is that the government's not going to simply relocate. What's more, the premium that firms in the politics & government industry are willing to pay for DC locations makes it generally uneconomical for large firms in other fields to locate themselves here except as retail outposts.
This poses a bit of a "Saudi Arabia or Alaska?" dilemma for the city. The Marion Barry (and, it seems, Milloy) view is that we should be Saudi Arabia and the city government should use its revenue to provide the service of direct employment. I think, however, that over the past 12 years the city has reached a consensus, rightly unchallenged by our new mayor-elect, that this is the wrong way to go and that city services should aspire to serve the needs of their clients rather than the service providers. Obviously that leaves non-trivial disagreements about how you do that. But any viable approach would involve the idea that whether or not a city worker gets fired should be determined by whether or not she's doing a good job, not by whether or not her job is beneficial to her and her family.