Issues Change Over Time
I'm a big fan of DW-NOMINATE data and I think it sheds a lot of light on a lot of questions, but I think Nate Silver's effort to use it to compare the ideological position of different presidents across decades of time just points to the limits of the methodology: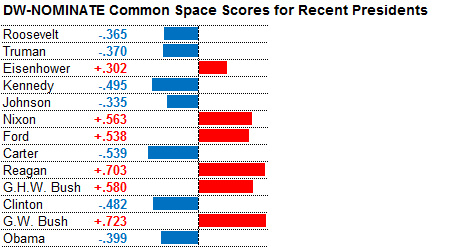 The model says if you average out JFK and LBJ you get (roughly speaking) Barack Obama. Common sense says it's just a wildly different world in 2011 than we had in 1961-68. Compared to Kennedy and Johnson, Obama has positions on gay rights, interracial marriage, and the role of women in society that would have been left-wing radicalism in the sixties. Nobody would be enough of a right-wing maniac these days to propose hiking military spending up to Kennedy/Johnson levels, nor would any American president contemplate unleashing the kind of brutal violence against civilians associated with that era.
Conversely, on the general subject of economic regulation Obama is way to the right of Kennedy and Johnson. In the sixties it was commonplace for federal regulators to set prices in a broad range of industries, marginal tax rates were unthinkably high, etc. Times change.