An Israeli defense company showed off a radical new shotgun that looks straight out of science fiction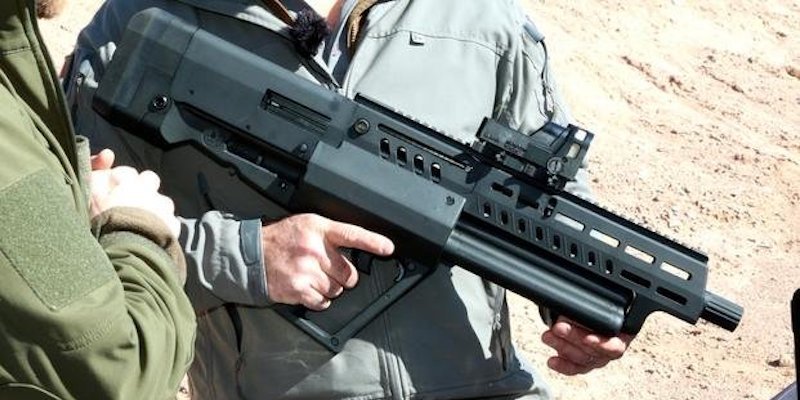 Matthew Cox/Military.com
Israel Weapon Industries recently showed off a new Tavor TS12 semi-auto shotgun at a weapons show.
The new 12-gauge semi-auto shotgun feeds from one of three rotating magazine tubes, each capable of holding four three-inch shotgun shells or five two-inch shotgun shells.
The shotgun has a total potential magazine capacity of 15 +1 rounds.
IWI US Inc.'s new Tavor TS12 semi-auto shotgun was definitely the most radical-looking weapon design at SHOT Show 2018 Range Day.
This new 12-gauge design is the company's first foray into the tactical shotgun market and looks like it would be right at home on the set of the sci-fi classic, "Starship Troopers."
The U.S. subsidiary of Israel Weapon Industries Ltd., based in Middletown, Pennsylvania, is known for its bullpup-style Tavor rifle family and other Israeli-style weapons.
I know many KitUp!, readers are not fans of the bullpup design, but I have to say it was pretty nice to shoot.
The gas-regulated, semi-auto shotgun feeds from one of three rotating magazine tubes, each capable of holding four three-inch shotgun shells or five two-inch shotgun shells, for a total potential magazine capacity of 15 +1 rounds.
We were only able to load two shells in each tube because of safety rules at range day, so I didn't get a feel for how much buckshot the TS12 is capable of sending down range.
Instagram Embed:http://instagram.com/p/BeRMyJCAD9p/embed/Width: 658px
It measures 28.34-inches overall and weighs eight pounds. The TS12 is bulky-looking, especially when you compare it to standard semi-auto and pump shotguns.
Rotating the tubular magazines was a little awkward at first but not bad. Recoil was very manageable, and the balance was surprisingly good.
It also features a one-piece, full-length 1913 Picatinny top rail with M-LOK receptacles on each side of the forearm to allow multiple placement possibilities for lights and other accessories.
The TS12 will be available initially in a black finish, but later versions will be offered in olive drab and flat dark earth. It's slated to retail for about $1,400.NOW WATCH: The surprising reason some countries drive on the left side of the road