Investing in death care: caskets vs. cremation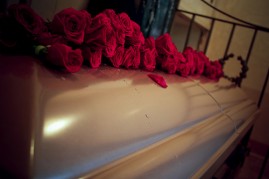 Technology startups are a dime a dozen. When a startup company is a casket maker, that's news.
Most investors don't get dollar signs in their eyes when they think of crafting coffins. It's a not-so-glamorous way to secure an early retirement and put down permanent roots in Turks & Caicos. The investors backing the newly formed Genesis Casket Co., however, are counting on increased demand for its products based on a projected rise in annual deaths in the US from the current 2.6 million to 4 million by 2040.
Having covered the death care industry for more than eight years now, I see the entrance of Genesis Casket Co. as confirmation that, yes, the death care industry continues to be alive and well.
Companies in this line of business own funeral homes and cemeteries, provide funeral services, and make caskets and urns. The industry's behemoth, the world's largest death care provider Service Corporation International(SCI), generated more than half of its 2010 revenue of nearly $2.2 billion from funeral services and preneed sales. Thanks to the firm's preneed sales reps, SCI is sitting on an impressive buried treasure of $6.8 billion worth of backlogged unfulfilled funeral contracts. On the merchandise side, SCI made 44% of its revenue through sales of burial vaults, caskets, mausoleum spaces, memorials, and other items. In the casket-making niche of the death care industry, a mere three companies – Batesville Casket Company (owned by Hillenbrand), The York Group (owned by Matthews International), and Aurora Casket Company – crank out 65% of the nation's caskets.
With Genesis Casket Co.'s debut last month, competition in this niche of the industry is sure to heat up. By the end of 2011, it hopes to have turned out 30,000 metal caskets. The company is a startup financed by Spanish auto supplier Gestamp Automocion, whose North American unit in Michigan decided to shift gears to casket-making to offset declining sales of metal parts to the auto industry. For the Genesis operation, Gestamp also is providing nearly $17 million to fund the transformation of an Indianapolis auto parts plant once owned by SMC Corp. of America.
Caskets remain a cornerstone of the traditional funeral service. According to the National Funeral Directors Association, the cost of a metal casket accounts for 35% of what the organization considers a "regular adult funeral" excluding "cemetery, monument/marker costs" at $6,560. (Compare that to $708 in 1960.)
As a company solely focused on making caskets, Genesis stands to fare well; however, the firm is faced with some daunting industry trends that ultimately could put it six feet under if it doesn't eventually diversify or at least outperform its rivals. While the casket manufacturer is counting on the fact that there's a potentially lucrative, growing group of over-65 Boomers that will become customers someday, there's no denying that the increasing popularity of cremations looms large. Of the total deaths in the US and Canada, cremations represent more than one-third and more than one-half, respectively, and the number outpaces casketed funerals each year.
Top provider Batesville Casket has diversified, as a result, to cater to customers who ask for cremation services over traditional casketed funerals in the US and Canada. The company rolled out an Options by Batesville cremation line that provides funeral service staff with training, merchandising support, and marketing support materials and offers cremation caskets, containers, and urns.
Besides cremation, other factors have slowed growth for casket makers and the death care industry in general. Improved health care and less severe seasonal pneumonia and influenza outbreaks are helping to increase mortality rates in recent years.
Despite the odds, Genesis has a good chance to succeed in the death care industry. Chief executive Tony Colson is certainly not an outsider. He was handpicked to run the newbie casket company, having logged experience at Wilbert Funeral Services, where he most recently served as president and CEO. Wilbert is a top maker and distributor of burial vaults and cremation products. Colson also spent 17 years of his career at Batesville Casket, his last position there being the director of business development.
~
Photo by It's JoJo/Jonelle B., used under a Creative Commons license.