Infrastructure matters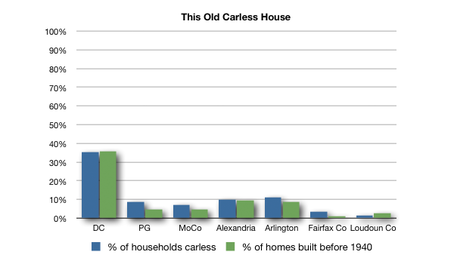 I gave up my car yesterday. Today I'll head to the Department of Motor Vehicles to turn in my tags. It's a sad milestone for a native Californian like myself. The years between birth and 16 were pretty much spent waiting until I get my driver's license. As a kid, I'd read Edmund's for fun, and I could rattle off the prices and specs of pretty much any car on the market. And owning a car was, as promised, awesome: It granted autonomy and private space and really loud music and a much-improved dating life.
But that's because I lived in Southern California. The debate over auto ownership is unfortunately moralistic when, in my experience, the realities of auto ownership are almost entirely decided by infrastructure. Left for LeDroit, an excellent blog covering my neighborhood, makes the point well in a recent post: Cities and neighborhoods built before the advent of car culture tend to be pretty easy to navigate without a car, and as you can see in the graph above, a lot of the people who live in them tend to not own cars. Conversely, cities that were built after cars became the norm essentially require their residents to own cars and their residents comply.
In practice, this doesn't feel like a decision imposed by the cold realities of infrastructure. We get attached to our cars. We get attached to our bikes. We name our subway systems. We brag about our short walks to work. People attach stories to their lives. But at the end of the day, they orient their lives around pretty practical judgments about how best to live. If you need a car to get where you're going, you're likely to own one. If you rarely use your car, have to move it a couple of times a week to avoid street cleaning, can barely find parking and have trouble avoiding tickets, you're going to think hard about giving it up. It's not about good or bad or red or blue. It's about infrastructure.





Recreation - Autos - Magazines and E-zines - United States - Shopping