Inequality On The Rise Across The OECD
Via Jacob Goldstein, a new OECD report (PDF) sees inequality rising more or less throughout the rich world, at least as measured by gini coefficient: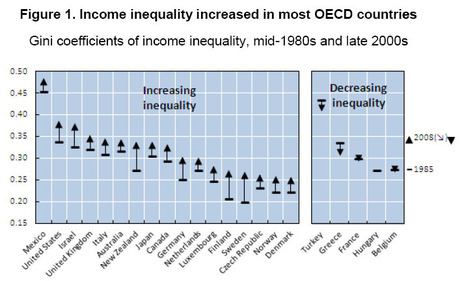 They also show that very different amounts of redistribution happen in different countries:


In most countries, the extent of redistribution has increased over the period as a whole. As a result, tax-benefit policies have offset some of the large increases in market-income inequality but they appear to have become less effective at doing so over the past 10-15 years. Up until the mid-1990s, tax-benefit systems in many OECD countries offset more than half of the rise in market-income inequality. However, since then, while market-income inequality continued to rise, the stabilising effect of taxes and benefits on household income inequality has mostly declined. In some countries, taxes and benefits became less redistributive during the past decade.
This is the Hacker/Pierson "policy drift" point. If China improves its public policy, then suddenly the available pool of low-skill labor is vastly expanded. That's good for Chinese people, it's good for many Americans, and it's good for the overall size of the American economic pie. But it's probably bad for less-skilled American workers so the natural thing to do would be to increase the extent of redistributive transfers. But we haven't. Nor have we done other major inequality-reducing steps like increase the share of people graduating from college, opening the borders to more high-skilled immigration, harmonizing professional licensing standards internationally, etc.