Indo Canada Chamber of Commerce honours enterprise
It was a night to remember as diplomats, politicians, academics and leaders from the business community, came out to celebrate those being honoured by the Indo Canada Chamber of Commerce (ICCC) at its Annual Awards and Gala Night, held at the Metro Toronto Convention Center.
More than a thousand guests attended this year's event. The chief guest was John Baird, federal minister of foreign affairs and the keynote speech was delivered by Ontario Premier Kathleen Wynne.
In his address, Mr. Baird spoke about a range of topics including the continued importance of economic expansion and cooperation between Canada and India and our longstanding bilateral relations, built upon shared values of democracy and pluralism and strong people-to-people links.
"Our ambitious pro-trade agenda is opening new markets and creating opportunities for Canadian businesses. But to truly open new markets, we need to forge closer ties with India," Mr. Baird said.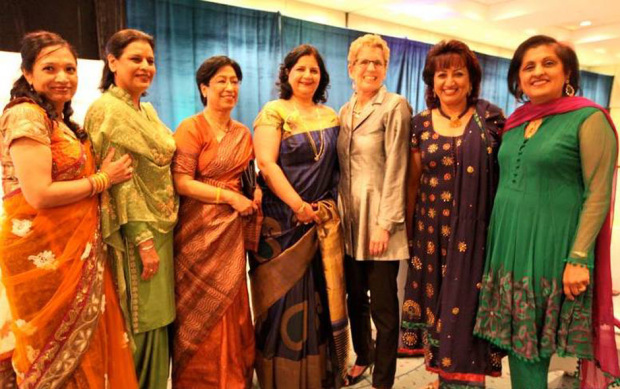 Renu Mehta, ImagebuilderZRashi Bajaj, Amrit Mangat, MPP, Asha Luthra, past ICCC president, Mini Khurana, Kathleen Wynne, Ontario Premier, Ravi Malhi and Renu Mehta, former ICCC Board Member.
Award winners included enterprising entrepreneurs, energetic professionals, innovative technocrats, corporate executives, dedicated philanthropists and bright youngsters:
Female Entrepreneur: Raj Girn, founder and president of Anokhi Media; Male Entrepreneur: Sujay Shah, president, Shashi Foods and Kii Naturals Inc.; Female Professional, Sadhna Joshi, associate professor, department of molecular genetics, University of Toronto; Male Professional: Raj Kothari, managing partner (GTA), PricewaterhouseCoopers LLP; Young Achiever1: Bilaal Rajan, youth and environmental social activist; Young Achiever2: Sapna Shah, medical research student; Technology Achievement: Nilesh Bansal, founder Sysomos; Corporate Executive: Deepak Chopra, president and CEO, Canada Post Corporation; Humanitarian of the Year: Chandrasekhar Sankurathri, founder, Manjari Sankurathri memorial foundation & Sankurathri foundation;  Lifetime/Outstanding Achievement: Jagannath Wani, social worker and philanthropist;  President's Award: Stewart Beck, high cmmissioner of Canada to India; Member of the Year Award: Women Entrepreneurs and Professionals Committee – Shibani Sahney, Ravi Malhi, Mini Khurana, Ginni Sethi and Smita Dayal.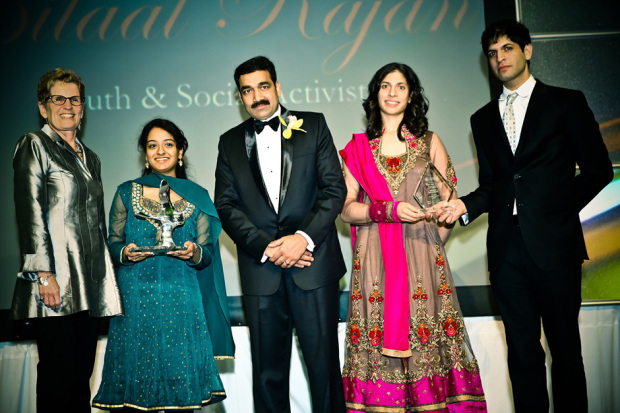 Renu Mehta, ImagebuilderZKathleen Wynne, Ontario Premier, Sapna Shah, Youth Achievement Award Winner, Naval Bajaj, ICCC president, Shivani and Rajeev Ruparell of Silver Hotel Group.
"We celebrate the achievements of our heroes, selected by our advisory board, for making a significant contribution to their field of endeavour and for contributing to the fabric of the Canadian society," said Naval Bajaj, president of the ICCC, at the event. "Since their inception 20 years ago, our awards have come to symbolize the best the Indo-Canadian community has to offer to Canada, to India and to the world. In these two decades we have recognized over 200 individuals."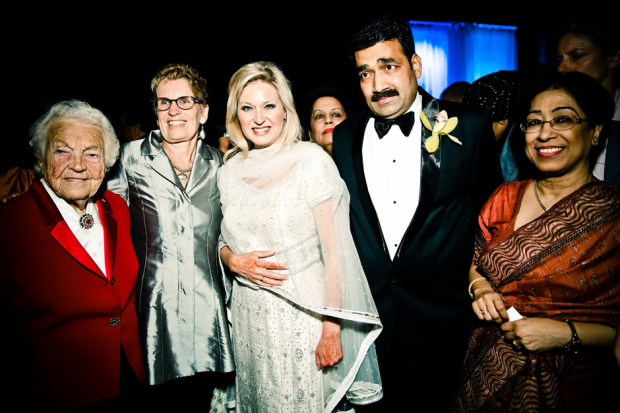 Renu Mehta, ImagebuilderZMississauga Mayor Hazel McCallion, Ontario Premier Kathleen Wynne, guest, Naval Bajaj, ICCC president and Asha Luthra, past president ICCC.