Increasing Spending Through Strategic Defaults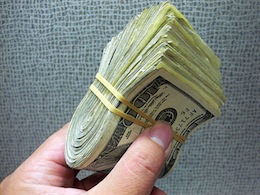 In the initial phase of the recession, the savings rate spiked, which is what you normally expect from a recession and especially from a balance-sheet recession. Recently, though, it's been going up again. How? Why? Yves Smith pulls together some anecdata and speculation that strategic defaults are making this work.
To clarify, the idea of a "strategic default" is that you might have a debt that you can pay such that it's nonetheless more financially beneficially to simply not pay it and instead undergo whatever contractually or legally specified penalty follows from that. Conventional wisdom has it that well-run businesses will default whenever defaulting makes financial sense, but that decent burghers pay their debts unless it's absolutely impossible.
I think it's hard to know if there's any truth to Smith's speculations, but if she's right I'd count it as another reason to think the moralistic point of view is mistaken. People should behave in a way that makes the most financial sense for their family, not just as a matter of self-interest but because in a country where there's tons of consumer debt out there it's actually economically crippling to have indebted consumers behaving in an irrational way. The economy needs more demand after all.