IMF Projects Strong Growth in Poor Countries
You've probably already read about the IMF's new projection that US unemployment will continue to be unacceptably high for years and years. That's a crucial story, and it's why I think it's urgent for the Fed and Congress to act to boost growth. But on this blog I do like to promote the idea that people should take a less-parochial outlook and the IMF report is basically good news—they're raising their projections for growth worldwide, and forecasting a global recovery that's driven by strong performance in developing countries: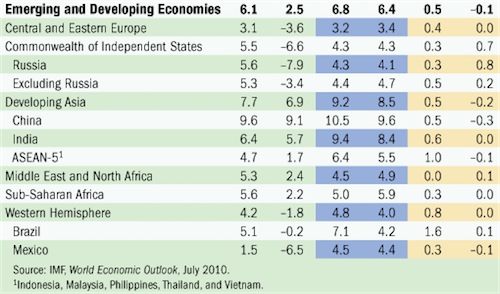 Of course it's dumb to say "high US unemployment is fine because India's going to grow 9.4 percent in 2010." But sluggish performance in the US and Europe and strong performance in India, China, and Brazil is in fact better than the reverse. Indeed, part of the tragedy of our current situation is that we're actually living through one of the most exciting periods in the history of the world—the very first time when the vast majority of mankind is linked up to the global marketplace and able to start acquiring some of the fruits of prosperity. If the rich countries could get our act together, we'll find that the overall capacity for production and enjoyment world wide has improved enormously over the past five years.