If You're Into Rashes, Recalled Fitbit Force Goes For About $200 On eBay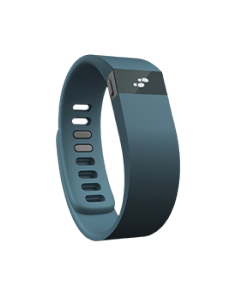 Since we broke the story of the Fitbit Force personal motion tracker causing contact dermatitis in some users, the company has begun its own recall of the devices and told authorized retailers to stop selling them. The problem is that hot gadgets are always available through unofficial channels as well. Like eBay, where you can still buy the Force, and it's selling for a premium.
Maybe the people purchasing these wristbands are building collections of brilliant but recalled technology. Maybe they're rash fetishists. Or maybe they're people who want this gadget, yet have heard nothing about the recall yet.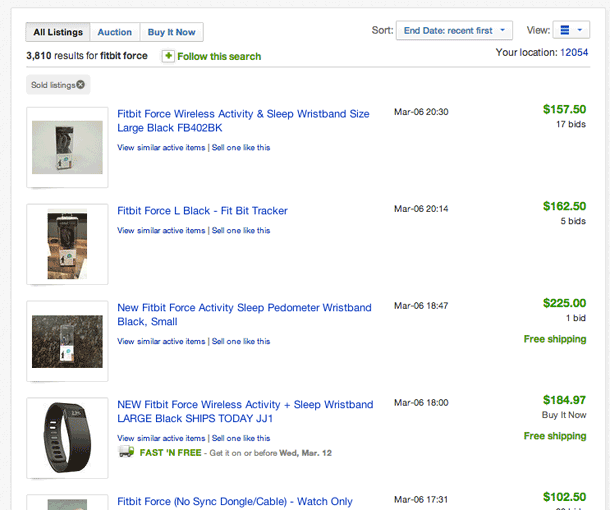 Fitbit, for their part, says that they don't want this to happen, and they've been flagging listings for the device that come up on eBay.
The trouble is that the Force may fall into a strange gray area of the eBay rules. The site bans items that have been officially recalled and can't legally be sold in the country where you live. That isn't the case for the Force yet. We've been told that an official Consumer Product Safety Commission-approved recall process is coming.
We contacted eBay about this to find out whether items under manufacturer recall only are allowed to be sold, and will update this post when we find out. The problem is that a manufacturer recall is very rare: companies usually work with the CPSC to get potentially dangerous items out of stores and consumers' homes.
Even if the company does find and flag listings, very short-term auctions and Buy it Now listings mean that customers might nab the devices before anyone sees that they're listed.
http://www.ebay.com/sch/i.html?_sacat=0&_from=R40&LH_Complete=1&LH_Sold=1&_nkw=fitbit+force&_pppn=r1&scp=ce0&_rdc=1
We aren't recommending that you hop on eBay and buy one. What we do recommend is that you perform due diligence before buying any appliance or electronic gadget from someone other than an authorized seller. You might be buying gray market merchandise that has a warranty in a different country, but not in the country where you live. Buying certain items from sellers that are in your country but that aren't manufacturer-authorized can void the warranty, leaving you bereft if the item breaks. And, like in this case, you might be buying an item that has harmed about 2% of wearers so far that we know of.
PREVIOUSLY:
CPSC Working With Fitbit On Mysterious Force Rash Issues
Fitbit Voluntarily Recalls Rash-Inducing Force Wristbands