Iceland Bans Strip Clubs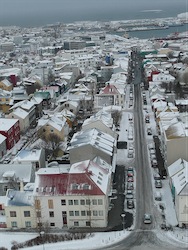 Reykjavik, Iceland (cc photo by ezioman)
Iceland has decided to ban strip clubs, earning it the title of "the world's most feminist country" from Guardian columnist Julie Bindel. Not everyone is so sure. Miriam Perez says that "criminalizing these industries simply drives them underground, where they continue to thrive, but with little regulation and definitely no protections for the workers."
I think that's almost certainly true as a general matter, but probably not true of Iceland. Iceland is tiny, to the point that Icelandic people don't even have family names, and I think it would be relatively easy to enact an enforceable ban on strip clubs. To be financially viable, people would need to know where to find the club, and if word was out the authorities would find out about it. I would also imagine that the clubs are largely catering to the large number of foreign tourists who visit Reykjavík and would lose a ton of business by being driven underground.
Jill Filipovic has a more straightforward argument:
Which isn't to say that stipping is all glitter and fun and empowerful — I'm sure for some women it is, and for most women it isn't. Like a lot of other jobs. I'd be willing to bet that most strippers strip because it pays pretty well. Removing that option, even if it does send A Message, doesn't seem like a great victory to me. Because, sure, dudes will be sad that they don't get to male bond over seeing naked ladies anymore. But the ladies will be the ones who are dead broke because of it.
This seems right to me, but the further angle is that according to Bindel you're largely talking about an immigrant workforce:
According to Icelandic police, 100 foreign women travel to the country annually to work in strip clubs. It is unclear whether the women are trafficked, but feminists say it is telling that as the stripping industry has grown, the number of Icelandic women wishing to work in it has not. Supporters of the bill say that some of the clubs are a front for prostitution – and that many of the women work there because of drug abuse and poverty rather than free choice. I have visited a strip club in Reykjavik and observed the women. None of them looked happy in their work.
To simply note that the workforce doesn't look happy is really neither here nor there. I went to CVS yesterday and none of the cashiers looked happy in their work either—it's boring, low-status, and pays terribly. People work at CVS because they want money. Stripping in Iceland probably isn't a great living, but it's hardly beyond belief that 100 people might prefer it to being unemployed in Minsk.
Ultimately, considering Iceland's small size and the foreign-born labor force this strikes me as almost more akin to a zoning issue in the United States. There's no substantial political movement in this country to ban strip clubs, but there are many, many, many tony residential communities in which you'd never be allowed to open one. The general view is that this is a very undesirable business function that should be legal, but "somewhere else." In a small country like Iceland, that means "in another country." Bindel posits a sharp dichotomy between feminist-inspired opposition to strip clubs and religious-inspired opposition to strip clubs, but I live across the street from a strip club in a gentrifying neighborhood and the overwhelming sentiment on the condo listserve about it is just a kind of generalized and pre-political bourgeois belief that it would be better if the place became a yoga studio.