Hurricane Irma is now a Category 5 storm, and could make landfall in Florida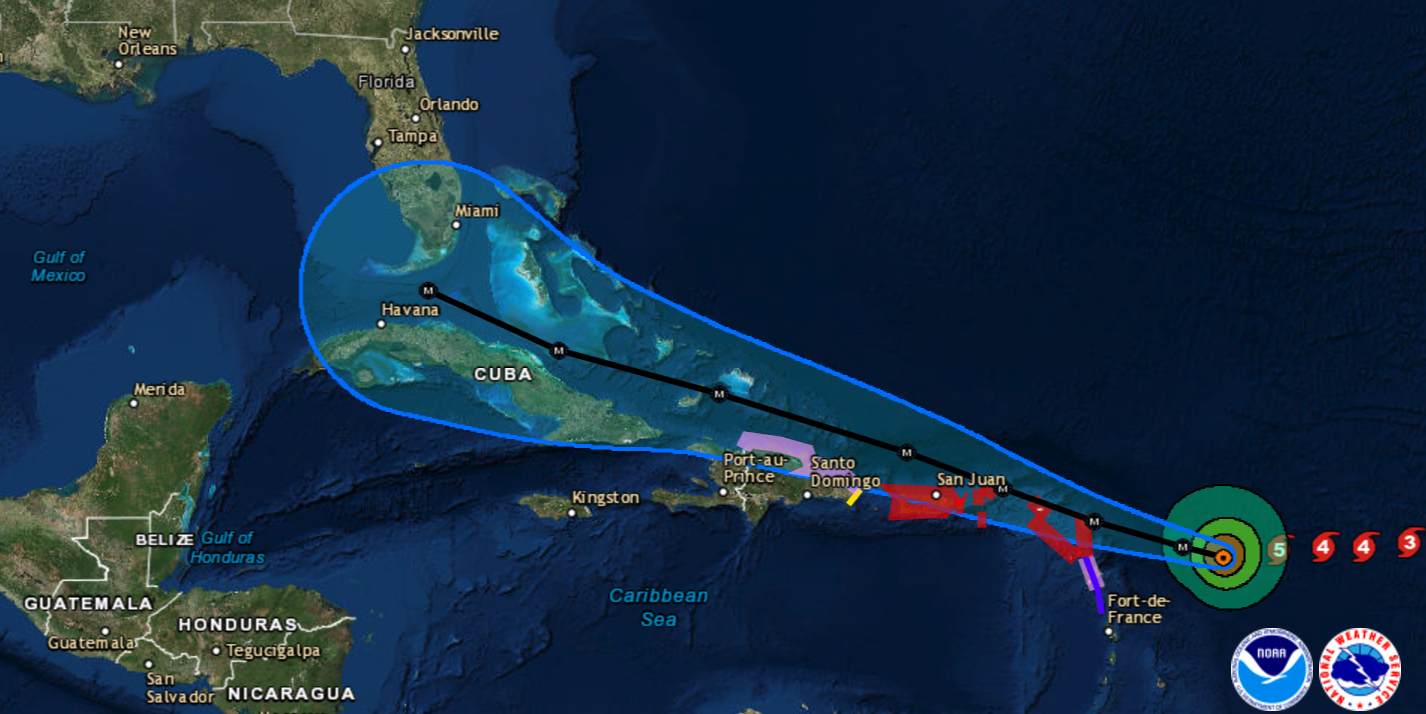 NOAA/National Weather Service
A week after Hurricane Harvey made landfall, devastating Texas with torrential flooding, meteorologists turned their attention toward Hurricane Irma.
The storm formed off the coast of western Africa last week and almost immediately began barreling toward the Caribbean Sea. Irma officially became a named storm on August 30, and was classified as a hurricane on August 31. Since then, it has gained strength from the moisture of warmer Atlantic Ocean waters.
On Monday, the storm metastasized from a Category 3 hurricane into a Category 5 hurricane, according to the US National Hurricane Center.
The Category 5 label means that parts of the storm's core have sustained wind speeds of about 175 mph. That's as powerful as a severe tornado — which can tear off roofs, level homes, toss cars, overturn trains, and uproot large trees. There's also a risk of storm surge (the crest of water at the front of a storm that's created by powerful winds) that may reach a height of 18 feet, though surge height forecasts differ greatly from one region to the next.
"Some fluctuations in intensity are likely during the next day or two, but Irma is forecast to remain a powerful category 4 or 5 hurricane during the next couple of days" the NHC said in a public advisory on Tuesday morning. It also called Irma "an extremely dangerous" hurricane and advised that "preparations should be rushed to completion in the hurricane warning area."
Those warning areas now include the US Virgin Islands as well as Puerto Rico, where the storm could hit as early as Wednesday morning. The Dominican Republic, meanwhile, is under a hurricane watch; the country could get hit by tropical-storm-force winds on Wednesday evening, according to Tuesday forecasts.
Tweet Embed:https://twitter.com/mims/statuses/905040749523333120The eye of a category 5 hurricane. #Irma #GOES16 pic.twitter.com/eATVZspJZx
Michael Ventrice, a meteorological scientist at The Weather Company (the group behind the Weather Channel and Weather Underground) told Business Insider on August 31 that Irma "could be the strongest hurricane of the year."
Forecasters don't know yet whether Irma will make landfall in the US at all, let alone as such a powerful storm. But the latest computer models are not comforting — some suggest the storm could plow through many Caribbean islands and head into the Gulf of Mexico, while other models have Irma tracking up the East Coast.
Two of the most predictive models have strong agreement that South Florida and possibly the city of Miami may be in Irma's path. If this scenario plays out, tropical-storm-force winds could reach the Florida Peninsula as soon as Friday evening.
"It's way too early to say for sure if Irma is going to have any impacts on the United States, but anytime the forecast models are predicting a potentially strong hurricane headed northwest across the tropical Atlantic, I'd pay attention," Phil Klotzbach, a meteorologist at Colorado State University who specializes in Atlantic hurricane forecasts, previously told Business Insider.
Tweet Embed:https://twitter.com/mims/statuses/904896620873093121If you live in S Florida, this is all you need to take #Irma very seriously.Remarkable agreement between GFS & Euro, our two best models. pic.twitter.com/kMQiQNAQ16
A combination of conditions — including a warm tropical Atlantic, a weak wind shear, and a change from drier to wetter weather — made it easy for Irma to pick up strength, according to Klotzbach. The storm could put us far ahead of the average accumulated cyclone energy (a measure of the energy of tropical cyclone systems) for this time of year, he said.
Both CSU and The Weather Company predicted an unusually active hurricane season this year. Irma is already the fourth hurricane of 2017, though the average date of the fourth hurricane in a year is September 21. The peak of the season is around September 10.
Klotzbach said half of the season's cyclone energy usually occurs in September, meaning major hurricanes are likely still to come. On Tuesday, in fact, a tropical storm named Jose formed east of Irma (and could also make its way toward the Caribbean).
Big hurricanes are usually defined by their wind force, but as we saw with Harvey — which made landfall as a Category 4 hurricane but caused most of its damage due to heavy rain — the number doesn't always accurately predict a storm's impact.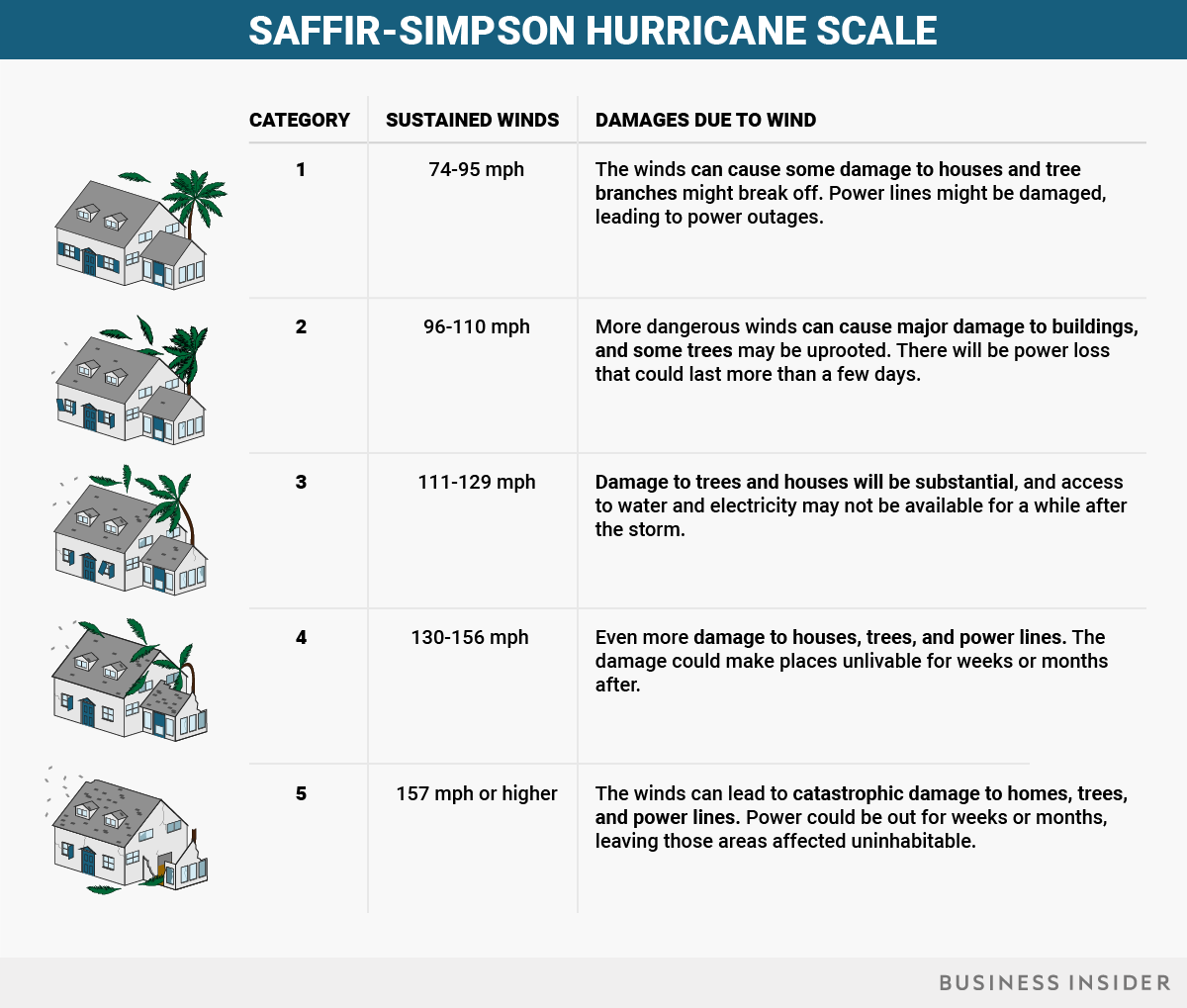 Ana Pelisson/Business InsiderNOW WATCH: Incredible time-lapse footage shows the enormous number of lightning storms Hurricane Harvey had as it hit Texas