A huge chunk of men who rule corporate America would prefer if everyone focused less on diversity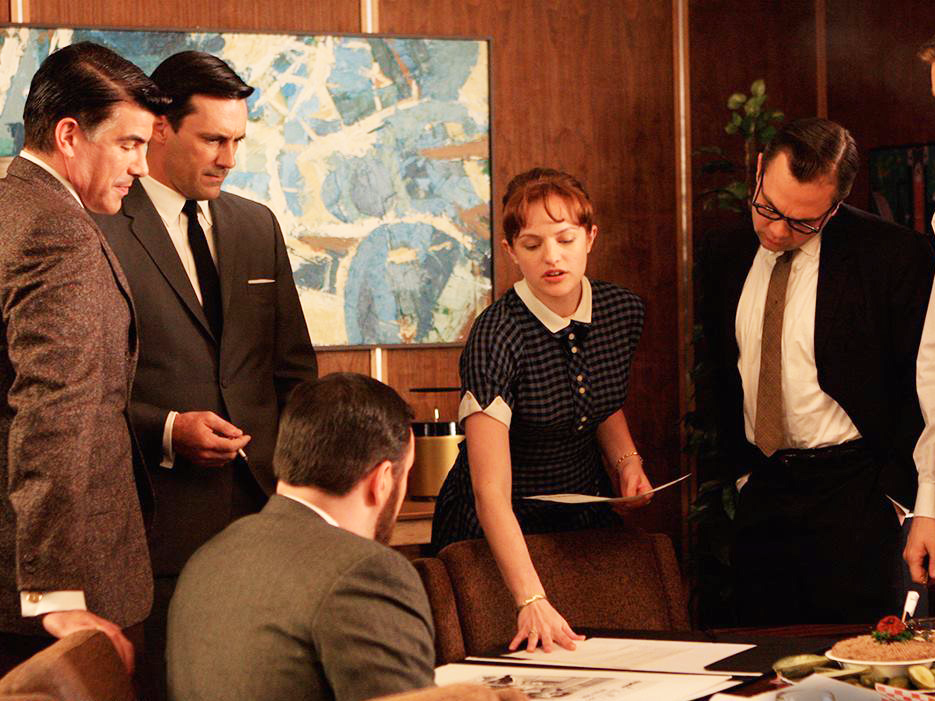 Mad Men / FacebookCorporate America is still run by mostly white, old men. According to a new survey, they're not too bothered about the lack of diversity.
Nearly a third of the men surveyed recently by PwC would prefer if less attention was paid to diversity. Thirty-one percent of men said there is too much focus on it, compared to 4% of women.
The survey interviewed 866 US public company board members, of which 14% were women – a representative cross section, according to PwC.
Among other findings:
When asked whether gender diversity was "very important," only 35% of men said so versus 68% of women.
When asked whether racial diversity was "very important," only 20% of men said so, compared to 42% of women.
Eighty percent of women said that increasing diversity was happening too slowly, compared to 33% of men.
On every question asked about the importance of diversity, women were far more likely to say that different types of diversity (by age, socioeconomic class, race, etc.) are important. For instance, when it comes to racial diversity on boards, 74% of women but only 26% of men say it's "very important." The chart below goes into the details.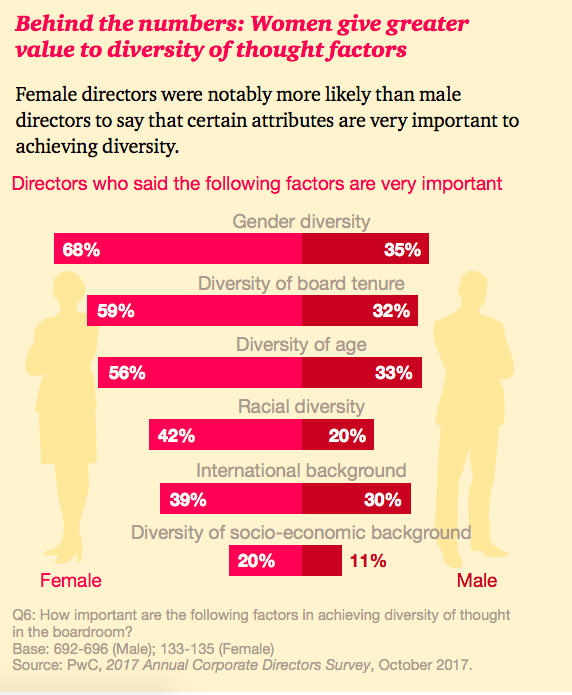 PWC
A big reason for the disparity is that most of the people running these boards are older men who grew up in a different social climate, said Paula Loop, leader of the Governance Insights Center at PwC.
Only 4% of directors at S&P 500 boards are under age 50, and they're overwhelmingly men, per the report.
"You're seeing a lag in the environment these people worked in," Loop told Business Insider. "They're continuing to feel that it's not missing from their board groups."
One bright spot, according to Loop: men seem to have slightly improved their views on gender diversity since the survey last year. That might be due to pressure from institutional investors who have made gender diversity a hot topic, she said.NOW WATCH: The head of a $55 billion fund at First Eagle points out the risks everyone else on Wall Street is missing