"The House Always Wins": These Funds Made A Killing As Bitcoin Plunged
Volatility, neutral exposure and market making can still pay - at least for crypto hedge funds.
Despite the fact that cryptos have collapsed across the board so far in 2018, one investing axiom still holds true to this day: the house always wins. Those who have been making a market, keeping neutral net exposure and benefiting from exotic methods of trading cryptocurrencies have continued to have a positive year this year despite the fact that a lot of the underlying cryptocurrency assets have had a terrible year.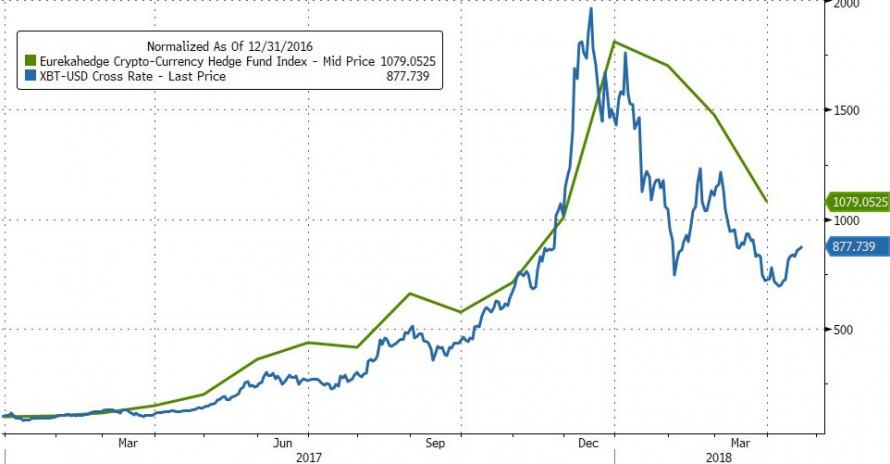 Bloomberg reported on Thursday:
Funds specializing in virtual currency market making and arbitrage strategies delivered first-quarter gains even as their mostly bullish peers lost 40 percent on average. That's a big reversal from last year, when digital assets soared and market-making funds lagged far behind their long-biased counterparts.
Pivot Digital Trading-2, managed by Hong Kong-based Amber AI Group, generated some of the biggest gains among cryptocurrency funds that avoid directional bets. It rose 4.3 percent in March to bring its first-quarter return to 30 percent, according to the firm. Market Neutral Liquidity SP-Institutional, domiciled in the Cayman Islands, earned 5.6 percent in the first quarter, said Cedric Jeanson of BitSpread Group, investment adviser to the portfolio.
The man behind the curtain continues to get his take. The increased volume that comes with crypto's plunge may not be great for traditional "buy-and-hold" crypto funds or retail investors who only have the means to hold long, but that did not stop market makers, net neutral funds and volatility bettors from cashing in. The article continued: 
The results suggest some managers are finding ways to profit from wild swings in cryptocurrencies without having to predict whether they will rise or fall. Such tactics may appeal to investors who want exposure to cryptocurrencies without their extreme volatility.
Here's a full list of funds that weathered the storm and the methods they used, courtesy of Bloomberg: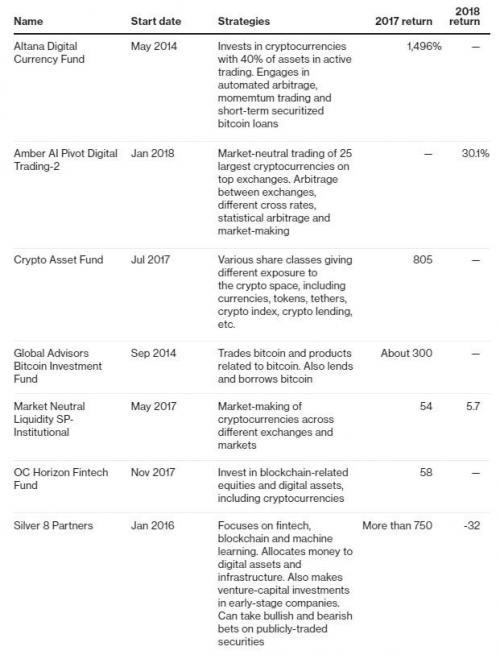 Bloomberg profiled two of the listed funds:
PDT2, as the Amber AI fund is otherwise known, trades the 25 largest digital currencies on exchanges including Huobi, OKEX, Bitfinex, Binance, Kraken and BitStamp, said Tiantian Kullander, one of the four former Morgan Stanley traders who started the firm with a one-time programmer at Bloomberg LP, the parent of Bloomberg News.
The fund began trading early this year and oversees about $25 million, said Kullander. Its quantitative trading strategies include market-making, short-term trend following and exploiting pricing discrepancies between different currency pairs and exchanges.
Market Neutral Liquidity SP-Institutional, with more than $100 million of assets under management, makes markets for currencies such as Bitcoin, Ethereum and Ripple, BitSpread's Jeanson said.
Back in February, we monitored the situation when bitcoin and other cryptos began to crash - only to then rebound just days later. 
Despite bitcoin and other cryptos catching a bid off of the crash, it still remains an ugly year. According to Bloomberg, bitcoin is now trading for about $8,355 - which while well above the YTD lows, is still several thousand dollars below the $12,500 level where it started the year, and the near $17,000 level it peaked early this year.