High-Tech: Not Enough of a Good Thing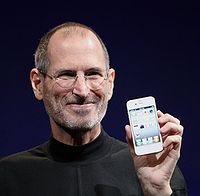 Neil Irwin writes about Larry Summers and America's innovation dilemma:
"How do you channel direct innovation so that more of the work takes place near the innovation in the United States?" Summers asked. Referencing the founder of Eastman-Kodak Corp., Summers said that "When George Eastman was a profoundly successful innovator, the city of Rochester lived well for a generation. … His innovation made him rich and enabled tens of thousands of his neighbors to live well. Is the same true today? How can we make it more the same?"
Let me phrase the same point differently. Think about arguably the most successful U.S. company of the past decade, Apple. Apple's great innovation has made Steve Jobs and a few other top executives insanely rich. It has made a few thousand educated professionals at Apple's corporate headquarters quite well-off: Engineers, finance people and the like. But given that most Apple products are made overseas, Apple's success has created few jobs for Americans with little education. Sure, there are some jobs mowing the grass at its corporate campus, working in the Apple cafeteria and driving the employee shuttle bus from Cupertino to San Francisco. But that handful of jobs pales in comparison to the tens of thousands of blue-collar jobs a company like Apple would have created in the United States in a different era.
That got me curious about some unprincipled math. According to Wikipedia, Apple has total revenue of $42.91 billion. At its peak in 1950, Rochester had 332,488 residents. So if you were to divide Apple's revenue evenly across the population of postwar Rochester, you'd get $14,286 per person. Of course US population has doubled since 1950, so the equivalent of powering a Rochester-sized city today would be a city of 660,00 thousand getting about $7,000 per year. Actual income in present-day post-industrial Rochester is $15,588 per person (of whom 28 percent are children) or $27,123 per household.
I don't think comparing Rochester to Cupertino will shed any particular light on anything. But let's consider the high-tech cluster's overall regional impact. The San Francisco Bay Area contains over 7 million people and has a median household income of about $74,000 per year. That tends to make me think that the US high-tech industry does, in fact, create a pretty large number of "good jobs." The problem here is that the San Francisco / San Jose / Oakland CSA is hardly representative. It's the second-richest in the country, so most Americans enjoy a standard of living that's quite a bit lower than that of the median person in Steve Jobs' orbit. The issue here, however, isn't that the Bay Area doesn't live up to the standard of Rochester of yore.
The issue is that in the heyday of the manufacturing economy we had a lot of manufacturing clusters. We don't have nearly so many high-tech clusters. But in our biggest one, it's not just a few billionaires lording it over the peasants, the median income is really high. If we had a dozen more Steve Jobses, we'd all be in much better shape.