High Conviction: 2 Undervalued CEFs With Hedge Fund Fee Structures
Michael Willman submits: Michael Willman is president and chief investment officer of Blue Sky Investment Partners, an investment advisory firm based in Evanston, Ill. Willman began his investment career as a research analyst focusing on traditional investments like stock and bond separate managed accounts, mutual funds and ETFs. Later, he spent eight years as the research director of a wealth management firm that focused heavily on alternative investment strategies including hedge funds, private equity, commodities, oil and gas, timber and real estate. Seeking Alpha recently had the chance to chat with Willman about strategy and where his focus lies for 2010. For starters, how would you describe your investment approach? During my entire 16-year investment career, I have always focused on finding the best portfolio managers for any given strategy or asset class. In other words, I don't pick stocks or bonds, I find the best stock, bond or alternative investment managers out there and allocate to them. In areas of the market that are highly efficient, like large-cap U.S. stocks, I use low-cost index funds as core holdings. In areas of the market where I feel like a manager can add alpha, I will, of course, allocate to actively managed strategies. We add value by selecting top performing managers in inefficient areas of the market and also through tactical asset allocation. We will gently tilt portfolios towards areas of opportunity. My client portfolios are currently allocated across mutual funds, ETFs and closed-end mutual funds. Which single asset class do you think will perform best in 2010, and what stocks or ETF do you choose to capture that? You could describe my outlook for 2010 as cautiously optimistic. There are positive signs pointing to an economic turnaround, but we will likely experience some sizable bumps in the road this year. As a result, I am looking to invest with a margin of safety. One way this can be done is through purchasing closed-end mutual funds that are trading at a discount to net asset value ((NAV)). The first step I take is to research closed-end funds that I would actually own even if they traded at NAV. Once these quality funds are identified, I look for funds currently trading at a discount of over 10% and a history of trading right around NAV. There is no point finding a fund trading at a 20% current discount that historically has never traded for less than that 20% discount. My goal is to identify a fund that is temporarily out of favor and wait for that gap to close. I want to highlight two funds managed by Royce Associates that currently meet my investment criteria.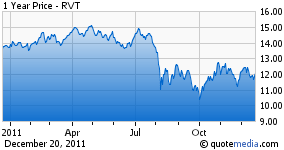 Royce Value Trust (RVT) and Royce Micro-cap Trust (RMT) are currently trading at a 15% discount to NAV. These discounts are much wider than what has been seen historically. The portfolio manager of both funds, Chuck Royce, has a 47-year career investing in small and micro-cap stocks. Both funds have consistently beaten their benchmarks and peers over time. The icing on the cake is that both funds have a performance fee arrangement similar to a hedge fund. For the Royce Micro-cap Trust, if the fund underperforms its benchmark, the management fee is reduced by 50%. Of course, if the fund outperforms its benchmark, the management fee is increased by 50%.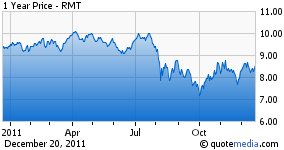 The Royce Value Trust has the same fee structure described above, but has another great added feature. If the fund's performance over the trailing 36 months is negative in any month, no management fee will be taken. Because of the financial crisis and resulting market correction in 2008, this fund is currently in a negative performance period and not charging management fees. Finally, I love it when my portfolio managers "eat their own cooking." Royce & Associates are big believers in this philosophy. For example, Royce officers, employees and their families currently have $15 million invested in the Royce Micro-cap Trust. Drilling down a bit on investing in closed-end funds at a discount to NAV, does a CEF's level of debt figure into your analysis, and how? I tend to stay away from funds that use a lot of leverage. This goes back to my days of investing in hedge funds. One of the ways I successfully avoided investing in the many fund blow-ups you see every year was to steer clear of heavily levered funds. Leverage can obviously boost returns if security selection is right on, but can cause a lot of damage if investment picks go sour. What about holding periods for CEFs? With some of them (recently, Pimco's) trading at premiums and others at deep discounts, they're not always favored for longer holding. I'm an investor, not a trader, so I would prefer to hold a well-managed fund forever if possible. Unfortunately, in the CEF arena, this is not a reality. Once a fund starts trading at even a slight premium, I will sell the fund. Even though a fund may continue to run and eventually trade at a huge premium (many do currently), I cannot justify owning something priced above a dollar that is only really worth a dollar.You mentioned Royce Value Trust not charging management fees recently; with the downturn, how do you see investor sentiment toward CEFs? CEFs have come back significantly since the downturn when nearly every fund was trading at a discount. There are still, however, many funds still trading at sizable discounts. CEFs are mainly held by retail investors and I think many are still sitting on the sidelines trying to figure out if the recovery we are seeing is real. This bodes well for CEFs in general over the near term as more investors get back in the game. Have any new instruments emerged in the past few years that you've adopted in your portfolio construction? One great development over the past few years is the proliferation of mutual funds that have hedge fund strategies. I am a big believer in adding uncorrelated hedged strategies to a portfolio to both reduce risk and increase returns. Most of my client portfolios have anywhere from 10% to 30% invested in these types of funds. Growing from just a handful of funds a few years ago, there are now hundreds of funds to choose from with many different types of strategies. We are now seeing big hedge fund firms diversify their client base by creating retail mutual funds that mimic their hedge fund strategies. An example of this is AQR Diversified Arbitrage Fund (ADANX). AQR had a long and very successful career managing hedge funds and large institutional portfolios and just recently launched a hedged mutual fund. The mutual fund follows a strategy similar to one of their hedge funds with allocations to several arbitrage strategies including merger arbitrage, convertible bond arbitrage and share class arbitrage. Thanks, Michael, for sharing strategies with us. Read more High Conviction Picks » If you are a fund manager and interested in doing an interview with us on your highest conviction stock holding, please email Rebecca Barnett. Complete Story »