The Heritage Foundation's Fuzzy Math
Annie Lowrey delves deeper into the Heritage Foundation's macroeconomic forecasting and finds it a bit fishy:
The model derives the unemployment rate from two variables: a wage-price variable (essentially, how much workers cost) and the full-employment unemployment rate (essentially, the lowest the unemployment rate can get without spurring inflation). Beach says he felt that latter variable had been set too low. He set it higher, re-ran the whole shebang, and came out with new, higher unemployment rates—with no impact on the rest of the model. Total employment, public employment, and private employment were never affected, he says.
This doesn't seem to be how anyone else does it, possibly because it doesn't seem to me to make any sense.
It's worth trying to think about the track record of this method. It's not good. Recall their forecast that George W Bush's tax policies would launch an unprecedented labor market boom: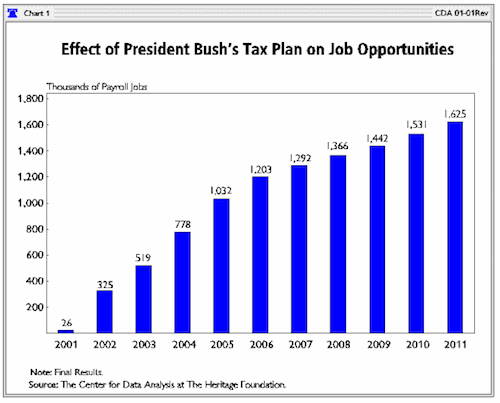 Didn't happen.