The Heart of March Madness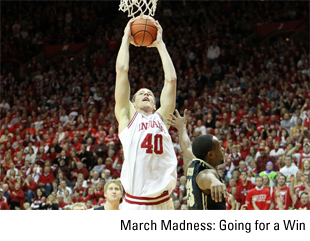 As sports fans fill stands to watch teams compete for the NCAA championship, another kind of "madness" is attracting attention.
It's the attack on Goldman Sachs and the entire financial industry that has drawn spectators, with the initial hit coming from within. Earlier this week, Greg Smith enjoyed his 15 minutes of fame after he expressed discontent with the "decline in the firm's moral fiber" in an opinion piece printed in The New York Times.
Did Smith know how potent his public op-ed would be? As the week went on, the media expanded its target from attacking Goldman Sachs's culture to the nature of its business to all financial firms and free enterprise itself. In one particularly disparaging article about Goldman, an L.A. Times commentator referred to the firm's bankers as a group of pirates. Another writer declared that "bankers are the enemies of capitalism."
It's normal to have an emotional response to Smith's powerful words. Yet, investors need to rationally interpret Smith's public resignation, as it could be seen as a disgruntled and righteous complaint about his former company's culture.
Smith says he was initially drawn to Goldman because of its culture, as it "was always a vital part of Goldman Sachs' success. It revolved around teamwork, integrity, a spirit of humility, and always doing right by our clients." He believed this was the "secret sauce" that made him love working for the company and gained "clients' trust for 143 years."
This sense of doing right by the client is engrained in many of the largest financial firms in the world. Several have roots in investment banking, a business based on a deep relationship with the client. From that, other lines of business, such as trading, research and private banking, were developed to meet the clients' demands and needs. This relationship model and mindset has historically contributed to the success of Wall Street, while generating wealth for investors and jobs for American workers.
Everyone agrees that it's unethical to put the firm's interest ahead of its clients. More importantly, a self-serving financial attitude is a breach of fiduciary duties. It may be possible that Goldman Sachs has moral issues, but not all financial firms are "morally bankrupt." Nor are thousands of executives and professionals employed in the industry—moms, dads, uncles, aunts, daughters, sons—who are hard-working and acting in the best interest of their customers.
What seems to be distorted is the gross generalization that making money is bad. This thinking confuses the "what" with the "how." Criticizing the "what" of capitalism—the pursuit of profit—is akin to saying that winning a basketball championship is bad. Healthy competition and innovation are needed for a fair game, whether you are an entrepreneur or a basketball player.
An investor should focus on asking how a firm makes money. Which principles guide how a firm makes money?
Here's a matrix to help determine this. Working backwards from the end goal, I believe results are based on the actions of employees which are shaped by values and beliefs which are supported every day by senior management. Each of these steps must be in sync, working toward the same goal and driven by the same actions in order to drive results.



At U.S. Global Investors, our mission is to maximize the growth, protection and service of our shareholders' wealth with the highest ethical standards. To achieve this mission, every employee is expected to embrace our seven core values: focused work ethic, curiosity to learn and improve, initiative, responsiveness, respect for people and teamwork, performance and results oriented, and recognition of achievement.
In addition, we have a performance-oriented structure that is aligned with our shareholders' interests.
U.S. Global's investment team bonuses depend on each fund landing in the top half of its respective benchmark as defined in the prospectus. If a fund's return lags too much, the advisory fee is decreased and given back to the fund shareholders until the performance improves over a 12-month rolling period.
Half of any bonus given to the portfolio managers is directly invested in the funds and held for the long term. They have "skin in the game," because they are invested alongside shareholders.
A profit sharing plan is available for all employees with profits invested in the funds.
Legendary basketball coach John Wooden once said, "Success comes from knowing that you did your best to become the best that you are capable of becoming." This is true in business as it is in sports. As I've said many times, life is about managing expectations. Investors need to be assured that while external markets may be volatile, the minds and hearts of investment advisors working on their behalf should be unwaveringly ethical and actions consistently honorable.
All opinions expressed and data provided are subject to change without notice. Some of these opinions may not be appropriate to every investor.