Groupon Beats Earnings but Stock Price Tumbles on Lowered Guidance
Groupon, Inc. (GRPN) announced its fourth quarter results for fiscal year 2013 (4QFY13) yesterday, just after the market closed. The online deals company reported better-than-expected revenues and earnings per share (EPS).
The stock had initially gained almost 10% in after-hours trading as soon as the news of the earnings beat came out, but then dropped sharply after investors absorbed details within the earnings conference call. In the full earnings release, the management lowered it estimates for earnings as a result of one-time acquisition costs and higher marketing expenses.
For its fourth fiscal quarter, which ended December 30, 2013, Groupon reported a net loss of $81 million, unchanged from the same quarter of last year. On a GAAP (Generally Accepted Accounting Principles) basis, the company reported a loss of 12 cents per share, while its adjusted EPS was four cents. Analysts had estimated Groupon's adjusted EPS to come in two cents.
Revenues for the Chicago-based e-commerce company were $768 million in the fourth quarter, up 20% year-over-year (YoY), beating analysts' estimates of $715 million. The jump in revenues came on the back of a 5% increase in gross billings, which reached $1.6 billion in the same period.
The company's revenues from North America rose 18% YoY during the quarter, while revenues from Europe soared 43%. However, total revenues were brought down by a 15% drop in sales in other geographical markets, which Groupon classifies as Rest of World.
Groupon shares moved down 12% in pre-market trading on the Nasdaq. The stock is trading at a one-year forward price-to-earnings multiple of 39x, and analysts polled by Bloomberg have estimates its earnings will grow 80% in FY14.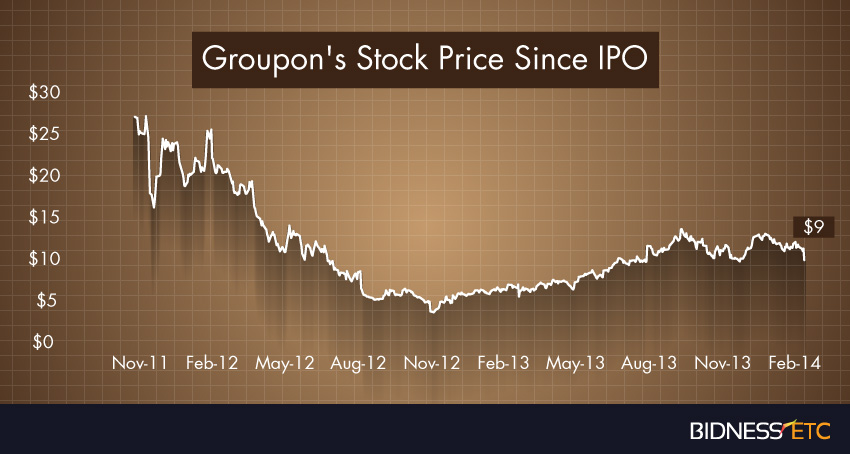 Full Year Results
For the full FY13, the company reported a net loss of just over $95 million, which translates to 12 cents per share. On a non-GAAP basis, EPS was 11 cents. Revenues in FY13 rose 10% to $2.6 billion, up from $2.3 billion in 2012.
On a segment-wise basis, North American revenues were up 31% in FY13, while revenues in Europe and Rest of World declined 8% and 15% respectively. Groupon's usage on mobile platforms surged almost 10% in the fourth quarter, with revenues from mobile transactions now making up almost half of total transactions.
At the end of December 2013, the company reported that it had $1.2 billion in cash. The management also announced that it bought back around 4.4 million of its outstanding shares in FY13, worth around $46 million, which is around 0.7% of its current market cap.
The online deals company, which had its initial public offering (IPO) in November 2011, has come under increasing criticism for its business model. The stock plummeted from its IPO price of $26 to under $3 in 2012, as the company struggled to turn a profit, with industry experts questioning the sustainability of the overall business.
Since then, Groupon has made serious efforts to switch from a daily deals provider to a company that offers thousands of searchable discounts for a wide range of businesses. In November of last year, the company paid $263 million to acquire Ticket Monster Inc., a South Korean online marketplace, which was previously operated as a unit of competitor Living Social. It also purchased the fashion retailer Ideeli for $43 million at the end of last year.
First Quarter Guidance
In addition to recent acquisitions made to offset its struggling daily email deals business, Groupon said it will spend around $25 million in 1QFY14 to push out its new online marketplace, Pull. The company's CEO Eric Lefkofsky said in yesterday's conference call that "the positive effects from Pull outweigh the short-term pressure this transition creates with our local business." Groupon will also spend $20 million to fully consolidate Ticket Monster and Ideeli into the business, which will result in incremental revenues of around $50 million for the quarter.
For 1QFY14, the company now expects revenues to be in the range of $710-760 million, higher than analysts' estimates of $683 million. For the same period, Groupon now expects a loss of two to four cents a share, much lower than the previous analysts' projections of a profit of six cents a share.
Changing Things Up
Groupon's increased efforts into creating a wide and searchable online marketplace is being touted as a game changer that will reduce reliance on the company's current model of sending daily emails. The Push marketplace will allow customers to search and obtain thousands of discount deals in their local area, rather than receiving emails for one deal every day.
Groupon is also increasingly focusing on sales of physical goods and long-term discount offers which users do not have to purchase the same day.
The company opened up a new Goods segment last year, and has also shifted focus towards rolling out more deals on mobile apps, as a way to counter the "email fatigue" – one of the factors which made analysts skeptical of its traditional email model. Groupon is also pushing into online display advertising to boost sales.
In yesterday's conference call, Lefkofsky said that Groupon was also considering the purchase of two warehouses to hold physical items from its Goods segment. But the company still has a lot of ground to cover before it can compete with online retailers like Amazon.com, Inc. (AMZN) and eBay Inc. (EBAY).