Greece: Ceding defeat, but not (yet) default
The Greek prime minister has given in to the inevitable in formally calling for help from the IMF.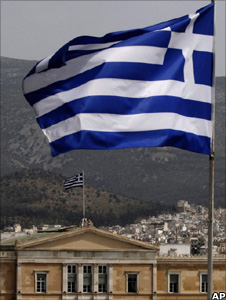 But in financial crises, a few days delay can be a dangerous thing. What the markets considered inevitable last week may not be enough to save Greece today.
The euro has risen on the news, as you would expect. The Greek government and (hopefully) the eurozone appear to have decided that Greece's problems won't improve until investors actually see official money heading to Athens.
The questions will now turn to when, exactly, Greece and the IMF will be able to reach a deal; what the conditions will be; and whether the amount of money involved can possible be enough.
There are logistical issues over the next few days, because many senior Greek officials are in Washington for the IMF meetings, whereas the IMF negotiators are already in Athens. But of course those can be overcome.
IMF officials have been thinking about Greece since at least the start of the year: it won't take much to have a Letter of Intent on the table ready for the Greeks to sign.
But it will matter - in Greek political terms - what is in that deal. There is plenty of popular discontent already about the cuts that the government has committed to make over the next few years. The worse the medicine, the more that investors will doubt the Greek population's ability to swallow it.
Yesterday, Eurostat revised up its estimate of the Greek budget deficit in 2009, 13.6% - up from 12.7% before. It's amazing to think that only last summer, the OECD was writing economic updates on Greece which warned that the deficit "could rise to 6% of GDP in 2010". It only goes to show how fast these situations can change.
Will today's news slow down the pace a little? Perhaps. As I noted, the euro has risen on the news. The gap between Greek and German long-term bond yields has narrowed slightly, and the cost of insuring against a Greek default has fallen by about half a percentage point.
But the implied risk premium on Greek sovereign debt is still much higher than it was only a few weeks ago.
Back then, a clear signal of intent by the Greek government that it would seek to borrow upwards of 40bn euros from the IMF and the rest of the eurozone would probably have bought the Greek government a lot of time.
But as I noted last week, there is now plenty of room for investors to doubt whether a package of that size will be enough.