Google-parent Alphabet slips after its earnings report (GOOGL)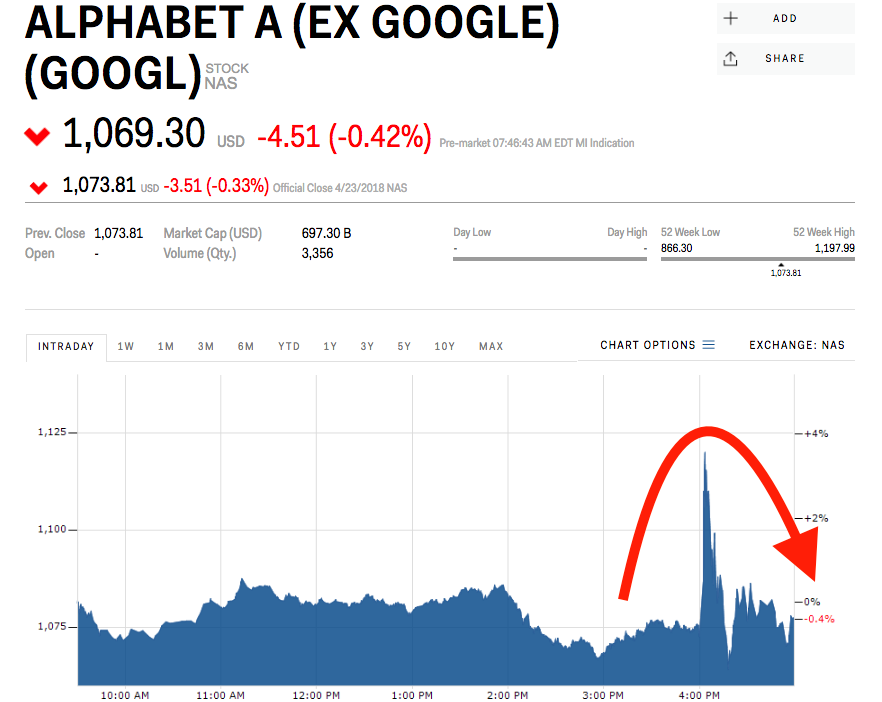 Alphabet reported first quarter earnings that beat analyst expectations on Monday
However, the results didn't assuage many of Wall Street's biggest worries around regulation.
The fees Google pays to partner web sites, known as TAC, continued to increase as a percentage of revenue.
Shares sank in after-hours trading following the earnings report.
Follow Alphabet's stock price in real-time here.
Shares of Alphabet, the parent company of Google, surged as much as 4% after the company reported first quarter earnings that beat expectations, before quickly retreating back to lose 0.4% in overnight trading.
For the first quarter of 2018, the search engine giant posted adjusted earnings of $13.33 per share where analysts had expected $9.30, on revenues (ex-traffic acquisition costs) of $24.9 billion, where analysts had expected $24.5 billion.See the rest of the story at Business InsiderNOW WATCH: Wall Street's biggest bull explains why trade war fears are way overblownSee Also:
Sean Hannity responds to 'ironic' report that detailed his $90 million property empire
Chinese cities wanting peace and quiet are using acoustic cameras to catch honking drivers
8 vitamins and supplements that are a waste of money — and could even be dangerous
SEE ALSO: Google beat revenue targets but didn't ease Wall Street's biggest worries