Global Macro Notes: The Worldwide Fiat Debasement Plan


"We're talking about huge sums of money going to bail out large foreign banks… Has the Federal Reserve of the United States become the central bank of the world?"
- Senator Bernie Sanders, (I) Vermont
This is an Ali-versus-Foreman type market environment. The operative mode is "float like a butterfly, sting like a bee." Quick steps are necessary to avoid getting hit.
In keeping with the impressive volte-face on Wednesday, in which risk assets surged, our thesis has evolved as follows:
While "Quantitative Easing 2" was a slow failure, with the gray swans of China tightening and European sovereign debt crisis weighing heavily on markets, risk appetite has surged back on a lusty re-embrace of the "Worldwide Fiat Debasement Plan."
In other words, we now have thematic reconfirmation – via revealed word and deed – of the conviction that ALL major fiat currencies subject to a printing press will be metaphorically 'lit with kerosene', in a mutual support exercise of drunk governments propping each other up (with the Chairman of the Fed as bartender in chief).
More on that to come. But first, to encapsulate our near-term adjustments, some off-the-cuff commentary from yours truly posted Wednesday on Barry Ritholtz' blog:
This is a hot-to-trot, buy-risk-assets-for-a-trade type move of potentially unknown duration.
Credit where credit is due, the bulls pulled out the stops when they had to with $SPX definitively busting out of the 1175-1200 range and thus inviolating all H&S / gap concerns.
Don't have to call it a "trade what you see" move though if one can see what's happening:
– Positive global manufacturing data
– Pavlov's-Dog-like reflexive hope in euro zone bailout odds
– And, yes, continued belief (hope) that U.S. recovery is sustainable
This is still very much a trader's market, which means the ability to turn on a dime and use offense as a form of defense along with risk control. We added big to existing gold and silver positions this week and picked up long natty producers and fertilizer today [Wednesday], while still maintaining longball bearish trend positions in the crisis-related stuff (like long $USD).
Lots of conflicts, different inputs and timeframes, with hope and irrationality layered over the whole mix as usual…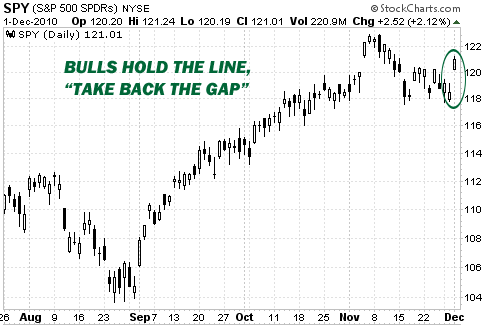 There is no question that the post-QE2 bearish patterns have been voided, and euphoria — based on a new and improved "Fed saves the day" meme — has returned.
U.S. centric traders argue that the strong action is the result of notably positive economic data — strong sales numbers out of Black Friday, an improving jobs picture and the like. That has certainly been part of retail's "pillar of strength" profile in recent weeks.
But we would argue the deeper driver for the "melt-up" feel to Wednesday's market action, in which various hard assets like oil and copper surged an astonishing 3%, is the forceful realization that the Fed is a backstop for Europe.
Consider the following stories, which provide both 1) a past context for how much the Fed has done globally and 2) a future context for how much more they could do:
Fed names recipients of $3.3 trillion in crisis aid (BB)
European Banks Dominated Use of Fed's Commercial Paper Program (BB)
European Banks took big slice of Fed Aid (FT)
IMF: US Ready to Back Bigger EU Stability Fund (CNBC)
Via the Financial Times:
Foreign banks were among the biggest beneficiaries of the $3,300bn in emergency credit provided by the Federal Reserve during the crisis, according to new data on the extraordinary efforts of the US authorities to save the global financial system.
The revelation of the scale of overseas lenders' borrowing underlines the global nature of the turmoil and the crucial role of the Fed as the lender of last resort for the world's banking sector.
However, news that banks such as Barclays of the UK, Switzerland's UBS and Dexia of Belgium borrowed billions of dollars at favourable terms from US authorities may further anger critics already enraged about the Fed's rescue of Wall Street.
"We're talking about huge sums of money going to bail out large foreign banks," said Bernie Sanders, the independent senator from Vermont. "Has the Federal Reserve of the United States become the central bank of the world?"
It isn't hard to read between the lines: "Biggest beneficiaries"… "revelation of the scale"… "lender of last resort for the world's banking sector."
Bottom line: Fed Chairman Benjamin S. Bernanke is a serial bailer who is happy to throw trillions at anybody. The revealed pattern of just how much cash was pumped into Europe during the early stages of the global meltdown says much about future pumping prospects.
Meet the New Beard, Same as the Old Beard
Markets further ignited Wednesday on speculation that the IMF would "expand" the European bailout. This trail leads back to the U.S. government in the same manner that American International Group (AIG) did in the dark days of 2008.
To quickly sum up, the Fed and treasury gave AIG $170 billion in bailout funds, then ordered AIG to distribute that cash to the likes of Goldman Sachs, Societe Generale, Deutsche Bank, and so on.
In other words, the Fed effectively used AIG as a "beard" to cover its tracks, as directly writing checks to foreign banks at $4 billion a pop would have caused a huge uproar.
What the market seems to be realizing, now, is that if the "beard" trick worked with AIG, it can work again via the IMF or some other mechanism.
It doesn't really matter what's legal and what isn't — or what form the new "beard" setup will take to preserve political cover. Somehow, the Fed will bend over backwards to fulfill its role as Europe's personal American Express card (or so the markets believe).



Shiny Happy PMI

Along with the dawning realization that U.S. taxpayers will be shaken down to finance all bad banks everywhere, the markets got a lift on Wednesday via the release of favorable ADP employment numbers and positive global manufacturing data, with China showing its fastest manufacturing growth in seven months.
That, in turn, led to happily nonsensical statements like the following (via Bloomberg):
"We're working our way back," said David Joy, chief market strategist at Columbia Management in Boston, which oversees $347 billion. "The ADP number shows that we're clearly going in the right direction," he said. "The strength out of China shows that, even if there's some tightening, they will be successful in engineering a soft landing."
Umm, what? The problem with China is that the economy is far too hot, not too cold. India is in a similar bind, with consumer price inflation of 11.6 percent.
So how in the world does strength argue for soft landing success?
And how many successful "soft landings" can be recalled even in normal, less extreme circumstances, let alone cases where inflation has hit double digits?
And yet, no one ever said markets have to be logical… as Julius Caesar observed, "Men willingly believe what they wish."
Enter Santa Claus

In addition to the newly globalized nature of the "Bernanke Put" and the bizarrely inverted logic of "China is strong so it's landing will be soft," we have new hopes pinned to a Santa Claus effect as consumers show signs of spending and the U.S. economy shows signs of healing.
At moment, all concern for the following seems to be abandoned — or at the very least put off til "after the holidays:"
Renewed household pressures from rising food and energy costs
Renewed corporate pressures from rising material input costs
Renewed concerns of a housing double dip
Renewed pressure from rising long-term interest rates
The imminent China rate hike cycle
Broadbased inflationary pressures in emerging markets overall
In short, the cure for what ails the world (Fed largesse) is also the disease. But right now there are no worries in respect to the very large obstacles looming.
When the fear's away, the mice will play — and traders must respond accordingly.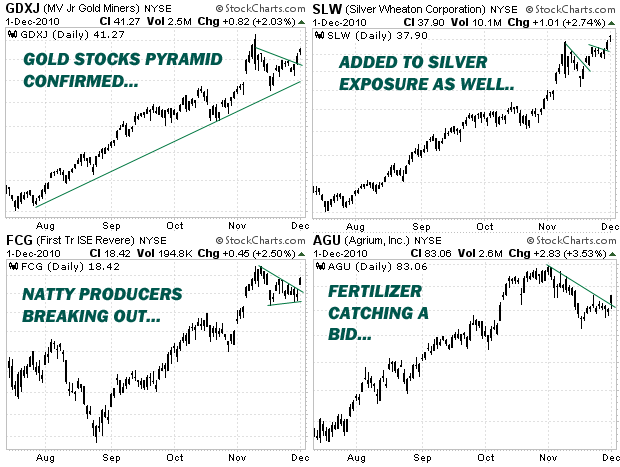 In the Mercenary portfolios we have kept P&L healthy via two measures — risk control (protecting profits) and using aggressive offense as a form of defense.
We closed our crude oil shorts last week at profit protective levels, and did the same on Wednesday with profitable copper shorts. On the offense front, on November 30th we noted a substantial pyramiding opportunity in gold stocks and took full advantage of that.
To further build out the long book, we added meaningful additional exposure in silver, natural gas, and fertilizer as noted above.



While happy to get in synch with the "risk on" surge, we are maintaing well-established trend positions such as short China and long $USD.
Europe's problems will not disappear just because Uncle Ben is willing to finance them, and the reality of China's white hot inflation challenge has not gone away. If anything the problem has spread, with India and others facing the same increasing pressures.
So have the bears been vanquished? Perhaps for a little while, but maybe not for long. Such is the ebb and flow of markets.
It would not be uncharacteristic for investors to focus on positive consumer spending trends for the balance of December — historically the strongest month of the year for equity markets — and then come back to reality (perhaps with a hangover) in the new year.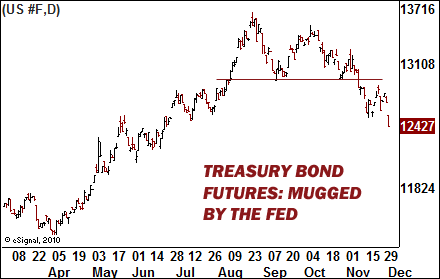 One final note: We have been sidelined in U.S. treasury bonds for most of the year, wary of the complex crosscurrents. But now we may be seeing a Fed-gifted opportunity to short bonds in size.
In short, the Federal Reserve has made clear its intentions to utterly trash America's finances, as it seeks to paper over the excess leverage and debt sins of the entire planet.
At the same time, a fresh boost of Santa Claus optimism could reignite the "inflationary recovery" meme — at least until Wile E. Coyote's Acme Rocket fizzles out once again.
Stay Nimble,
JS