Getting Radical on Spending Cuts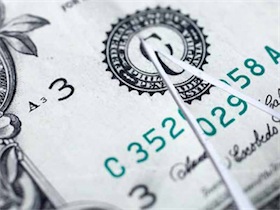 I'm pretty sure nobody at CAP favors the 100 percent cuts scenario outlined in our "A Thousand Cuts" report detailing possible approaches to achieving primary balance of the budget by 2015. But the econ team tried to be rigorous about what would be a good way to do that, and it looks like Reihan Salam is on board:
What might they do? The left-of-centre Centre for American Progress recently published a guide to balancing the federal deficit. As a provocation, they offer one plan for reducing it by $255bn through spending cuts, including the elimination of many cherished federal programmes. Although not in the pledge, it would make an excellent start.
They could then take a page from the right-of-centre American Enterprise Institute, and implement a competitive pricing system that applies equally to Medicare FFS and Medicare Advantage, a reform that would yield an additional $50bn in annual savings. Paring back the $300bn tax break for employer-provided health insurance would also make a big dent in the deficit. And that is just a start.
(Peeve here: Just because the FT is a British publication is no reason, in my view, why we should suddenly become a "Centre"—that's a proper name)
At any rate, I only wish Salam had detailed what some of these cuts are. For example, reductions of 20% in Immigration and Customs Enforcement, and Customs and Border Protection; 8% in federal corrections activities, 5% in the federal judiciary, the FBI, and the Marshall's Service. We've got a 12.5% cut in defense spending, a 75% reduction in agricultural subsidies, and the elimination of the tax deduction for business meals and entertainment. The plan cuts International Security Assistance in half and even trims veterans' disability payments. Leaving questions of political feasibility aside, I'd actually be interested in how many conservatives think these kind of reductions are good ideas on the merits. My sense of the right-of-center conventional wisdom is that the United States is currently doing far too little in the way of defense spending, immigration crackdowns, counterinsurgency, etc.
Now maybe I'm wrong and it really is the case that conservatives generally favor the kind of steep reductions needed to implement their tax agenda but conservative elected officials lack guts and courage. But I think I'm not wrong and that actually a fair amount of the debate over federal spending is phony and grassroots conservatives are just confused (as many Americans are) about what programs cost how much.