Gen Z really likes watching product reviews on YouTube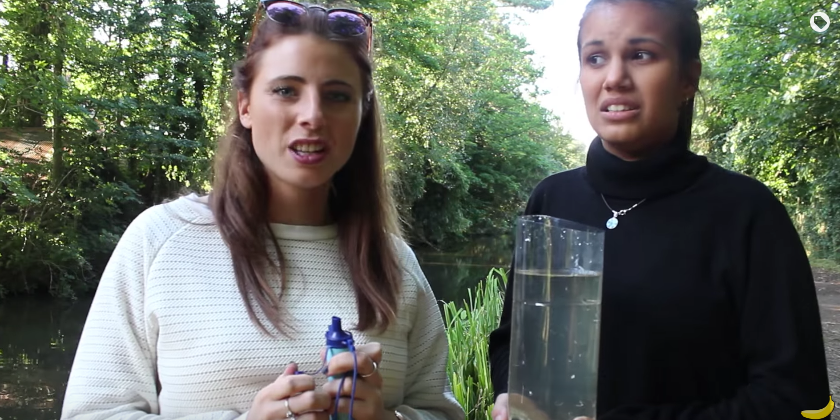 Screenshot/YouTubeAn October 2016 Influenster survey, which polled US female influencers who are heavy users of at least two social networks, found that 93% of respondents ages 14 to 18 watch product reviews on YouTube, compared to 86% of overall influencers.
In fact, these teen influencers are more likely to watch product reviews than any other type of video on YouTube, with 77% saying they go to YouTube to view such content.
Influenster is a network of "tastemaker consumers" who give opinions on products. The group surveyed over 11,000 US female internet users ages 14 to 51 between August and October 2016.
In addition to reviews, haul videos (those that feature someone showing and describing products purchased during a recent shopping trip) and unboxing videos (those that feature users unwrapping new products from their packages) are very popular among teen influencers.
The survey found that 76% of female 14-to-18-year-old respondents said they watch haul videos on YouTube, compared with just over half of the total number of review writers, while 71% of teens polled watch unboxing videos, vs. 52% of the total.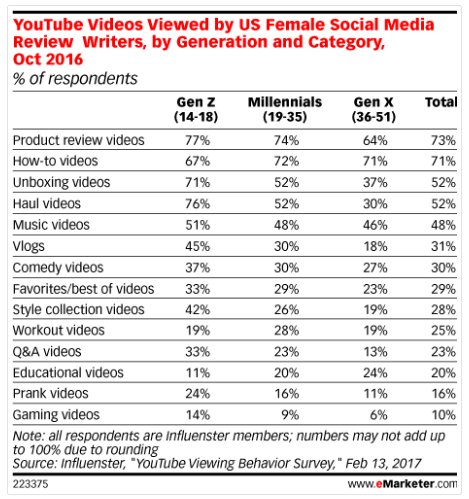 eMarketerWhen asked which video format was their favorite for learning about new products, the majority of teen respondents said they prefer product reviews, though close to one-fifth said they favor haul and unboxing videos, which was slightly higher than their millennial and Gen X counterparts.
It makes sense that younger influencers are visiting YouTube for information and opinions about products at a higher rate than older users.
The survey found that in general, teens are significantly more likely to watch YouTube videos at least once per day, at 70%, compared with 50% of total respondents.
They're also watching a much higher number of videos per visit on average.
Fully 42% of teens said they watch between six and 15 YouTube videos per sitting, while 22% said they watch more than 20 videos.
More From eMarketer:
Retailers: Brace for a New Wave of Generational Disruption
Virtual In-Store Shopping May Become A Big Omnichannel Trend
How Millennials Are Rewriting the Food Industry Playbook
For Native Advertising, 2017 Looks Like a Year of Clarity
Worldwide Retail Ecommerce Sales Will Reach $1.915 Trillion This YearNOW WATCH: Millions watch people assembling these Japanese candy kits on YouTube — we got our hands on one