Freedom From Fear of Sluggish Economic Growth
Corey Robin makes the case that progressives need to reclaim the language of freedom. The argument may be correct, but you should always beware people carting arguments that attribute FDR's stunning electoral success in 1936 to elements of his rhetoric:
In forging his realignment, Roosevelt was careful to identify the enemy not as a political party but an economic aristocracy. Throughout the 1936 campaign, he barely mentioned Alf Landon. Instead, he denounced the Liberty League and the businessmen it represented. Realignments in America are like that: Jackson railed against the Bank; the Republicans ran against the slaveocracy; Reagan campaigned against the liberal elite. Part of this is strategic: it's easier to peel away voters from the opposition if you can show that it is not their party you oppose but the interests it represents, which are not theirs. But part of it is substantive, reflecting a conviction that the task at hand is not simply to defeat a party or win an election but to free men and women from a malignant social form.
Just keep in mind what was happening to the economy: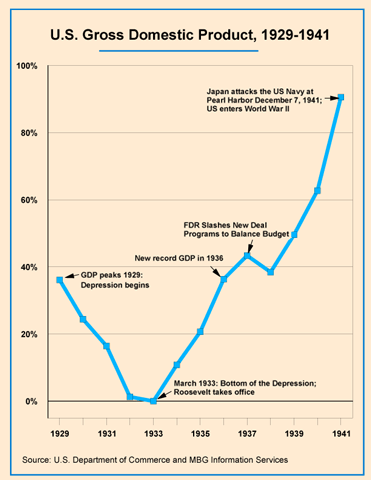 Any politician would look like a genius under those circumstances. And you see the same with Ronald Reagan's landslide win in 1984.