Free VIA from 'limited access' CN tracks with its own $3B corridor from Toronto to Montreal: report
OTTAWA – A sweeping review of Canada's transportation system recommends major changes to Via Rail operations in Canada, including using federal dollars and legislative powers to separate freight and passenger rail networks to allow for a dedicated Montreal-to-Toronto corridor, and consider eliminating subsidies for Toronto-Vancouver service.
The government tabled Thursday a report from an expert panel chaired by former federal cabinet minister David Emerson that makes dozens of recommendations for changes to Canada's transportation system.
The panel recommends the federal government "improve the fluidity" of passenger rail services in Canada by separating passenger and freight rail networks. It also calls on the federal government and Via Rail to work with the private sector to secure financing for rail network improvements that could limit the cost to the public purse and ensure a dedicated passenger track happens "much sooner."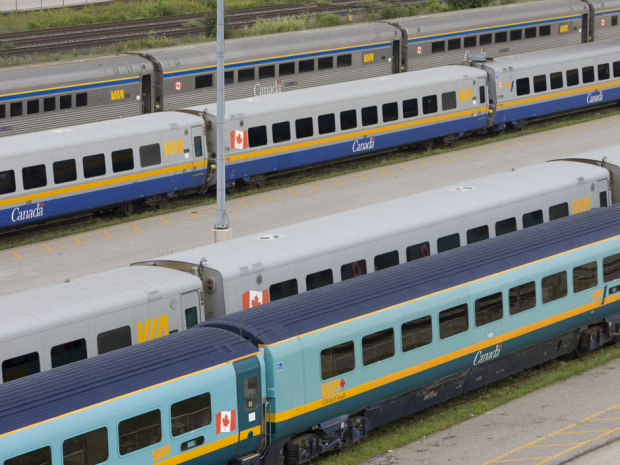 Postmedia NetworkVia Rail rail yard near Islington Avenue in Toronto.
The federal government should also collaborate with provincial and municipal governments on integrated commuter and passenger rail networks that could eventually allow for high-speed rail, says the report, titled "Pathways: Connecting Canada's Transportation System to the World."
Having a dedicated passenger track in the Toronto-Ottawa-Montreal corridor "could significantly improve passenger rail service for this inter-city market," the 516-page, two-volume report says.
"A dedicated track would be good for Canada: it would allow for additional passenger rail frequencies and more freight rail capacity in the long term and would help to lower highway congestion in Ontario and Quebec," the report says.
But the heavily subsidized Via Rail is far more likely to succeed in building a dedicated Toronto-to-Montreal track and improving service if it's able to secure private-sector financing, the report says. Via Rail's status as a Crown corporation forbids it from borrowing or raising capital.
The panel was created in June 2014 by the former Conservative government.
Via Rail CEO Yves Desjardins-Siciliano said in late 2015 that if the railway had its own dedicated track in the Montreal to Toronto corridor, it could increase its annual passenger load from 2.1 million currently to 6.8 million within 15 years, using what he called "high-frequency rail" that would cost $3 billion.
Related

An ongoing issue for Via Rail has been its battle with Canadian National Railway (CN) over access to track in the Toronto-Ottawa-Montreal corridor. Via Rail uses CN's track for much of its service and also pays CN and Canadian Pacific Railway (CP) for track access, the report says.
The majority of Via Rail's trips are in this corridor but its operations are "hampered by slow speeds and limited access to track" that is owned by CN. Via Rail believes that construction and use of a dedicated passenger rail track in the corridor would significantly reduce its need for federal subsidies for Toronto-Ottawa-Montreal operations.
The panel also recommends the federal government use infrastructure financing models that integrate the principle of "direct user-pay pricing" for rail and road. User-pay pricing for road travel includes toll roads or gas taxes.
The report notes "there is little question" that federally supported passenger rail ­– which includes user fees as well as taxpayer subsidies – would attract more riders if direct user charges were applied consistently to all modes of transportation, including by road.
A dedicated track would be good for Canada: it would allow for additional passenger rail frequencies and more freight rail capacity in the long term
Even in the Toronto-Ottawa-Montreal corridor, the total federal subsidy was $93 million in 2014.
The panel recommends the federal government consider eliminating subsidies for the Toronto-Vancouver service. Known as the "Canadian," the cross-country service received $55 million in federal subsidies, amounting to $591 per passenger.
At the same time, the report recommends continuing the federal subsidy for the regional and remote, and Montreal-Halifax services.
The Montreal-Halifax service received a federal subsidy of $36 million, for roughly $480 per passenger, while the regional/remote routes received $54 million in subsidies, or $777 per passenger.