Four thoughts on Alan Johnson's speech
Alan Johnson doesn't need a detailed plan to cut the deficit. When you're several years from a general election, it's the government's job to provide details, and the opposition's to respond.
That is probably just as well, because on the basis of his speech today, Mr Johnson doesn't have a plan. Instead he has a series of thoughts about the economy and the deficit, which do not necessarily add up to a coherent whole.
Thought number one, as Nick Robinson has said, is "Tiaa": There Is An Alternative to the government's approach. This argument goes: we do not need to cut borrowing as fast as the coalition suggests - indeed, it may not even be possible to do so, given the possible downside effect on economic growth.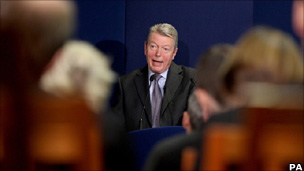 That is, of course, the big debate - which has been thrashed out many times at this blog - see, for example, The case for Mr Osborne's austerity, The case against Mr Osborne's austerity and Austerity plans: Where do you stand?.
But note one key part of his argument is that the government's plan "has more to do with the date of the next general election than the economic cycle".
That is true. If there were no such thing as elections, there would be no obvious reason to eliminate the structural deficit in four years, rather than six. But this is a Parliamentary democracy, and that makes the electoral cycle highly relevant to investors when they assess whether a country's plans to cut borrowing are credible.
Rightly or wrongly, supporters of the government's approach think that investors only look at what governments commit themselves to doing before the next election. They do not think much of commitments to cut after that, when somebody else may be in control.
In the chancellor's view, he had to prove he was serious about cutting the deficit, or else risk a loss of confidence in Britain's public finances and a big rise in UK borrowing costs. The best way to show he was serious was to promise to get the hard work done before the next election.
So yes: there were political reasons to let the Parliamentary term set the timetable for cuts. The government would like to have room for some good news - probably tax cuts - in time for the next election. But its focus on the markets gives it an economic reason to do so as well. Thought number two: it would be good for the recovery to cut public investment less than the coalition currently plans. That is a perfectly intelligent position, which many business groups would agree with - see my piece below.
In order to see this content you need to have both Javascript enabled and Flash installed. Visit BBC Webwise for full instructions. If you're reading via RSS, you'll need to visit the blog to access this content.
//
As Mr Johnson points out, the Office for Budget Responsibility (OBR) estimates that cuts in capital investment hit the economy much harder than either cuts in current spending or tax rises. It reckons that a 1%-of-GDP fall in public investment will cut national income by 1% as well, but if you save that money by raising taxes, the hit to the economy in the short term would be only 0.3%, or slightly more in the case of VAT. A 1%-of-GDP fall in current spending would hit national income by around 0.6% - see the table on page 95 of the June Budget document.
Given this background, the shadow chancellor is naturally shocked to discover that the government plans to cut capital spending by 33% in real terms by 2014-15. As it happens, Alistair Darling planned to cut it by about 31%. Presumably he's shocked by that as well.
He wants to cut by half that amount - that is, around 17%. According to the government, that would cost about £10bn. He says around £5bn of that would come from taxing the banks, which would be on top of the roughly £2.5bn a year that the coalition is hoping to raise from the same source.
Thought number three: Labour will not oppose all of the benefit cuts proposed by the coalition, but Mr Johnson doesn't see many that he likes. There's a thumbs-up for reforming the Disability Living Allowance ("provided it is done properly"). That raises just over £1bn. He also says, oddly, that he would endorse a short-term move to uprate benefits in line with the consumer prices index (CPI) instead of the retail price index (RPI), but only "ensuring that benefits do not fall behind earnings in the next few years".
I say "oddly" because the decision to uprate in line with CPI almost guarantees that benefits rise more slowly than earnings. That's why it saves so much money. The index of average earnings across the economy rose 38% between 2000 and 2009. Over that period, the RPI rose 43 % - slightly faster. The CPI rose by 19%.
The speech is being read as an endorsement of the change to CPI, at least for the next few years. Perhaps that is because earnings are expected to grow more slowly over this period than they have in the past. That is quite possible. But it's a big caveat to add if you want to pocket the nearly £4bn a year in savings that this proposal would bring.
Finally, there is thought number four: Labour would stick to Mr Darling's plan to halve the deficit by 2013-14, but with departmental spending cuts of 8% over four years, not 14% - or 10%, as per Mr Darling. And there will be no increases in personal taxes "beyond those already announced".
Is that possible? Start by thinking about what that deficit target would mean. The latest OBR estimate for borrowing in 2009-10 is 11% of GDP, so Labour would need to bring that down to 5.5% of GDP by 2013-14, compared to the 3.5% now forecast by the government. That gives the shadow chancellor roughly 2% of GDP to play with - or about £30bn in spending cuts over the next four years that he does not need to find.
Mr Johnson reckons that cutting departments by 8% instead of 14% means cutting public services by £27bn less than the government, of which £10bn would come through more generous plans for capital investment. It is difficult to make this comparison, because the 14% applies to 2014-15, not 2013-14. For what it's worth, I get £25bn, but we're in the same ballpark.
However, he still has to give us a sense of where that 8% - or roughly £30bn - in spending cuts that he would support would come from. Especially when Labour has rejected the £6bn in spending cuts that the coalition has found for 2010-11, and rejected at least £6bn of the £11bn the government is looking to raise from the benefit system by 2014-15.
Mr Johnson says that Mr Darling had already explained where £20bn in spending cuts would come from, in the March Budget. He didn't. He provided around £10bn in concrete reductions, including a freeze in public-sector pay. The rest were "efficiency savings" which, as the Institute for Fiscal Studies commented at the time, did not mean anything until the implications were spelled out for individual budgets.
If he is going to "spend" most of the room that a looser deficit target brings him, the shadow chancellor has also to explain how he is going to avoid the government's £12bn VAT hike with only a £5bn increase in bank taxes and "no personal tax increases other than those already announced."
But that would be an alternative Budget. As I said at the start, a shadow chancellor doesn't need one this far from an election, and just two days before the government's own spending review is announced.
The big message of today's speech is that Labour would cut the deficit more slowly than the government, and that would give it room to cut spending by around £30bn less than the government plans between now and 2014-15 - if Labour is right that it could loosen borrowing by that much and not send the government's cost of borrowing through the roof.
For my money, the hidden message is that if Mr Johnson did have to come up with an alternative Budget, at short notice, he would find it difficult to do so without swallowing some or all of that "terrible" rise in VAT.