Forget the Predictions…
Predictions–both good and bad– are a huge part of the financial landscape.
You've heard most of them. After all, they're shouted out, chopped into sound bites, and then repeated ad nauseam in the media's echo chamber almost every single day.
But just in case you've forgotten to pay your cable bill since the financial crisis, I've got you covered.
Here's a brief history of every major stock market prediction over the past four years:
2009: The market continues to head sharply lower. But this is only the beginning. Even after a huge decline, stocks are set to move lower–much lower. Stay clear of this market. The only thing you'll end up buying is pain and suffering
2010: Ok, the past year and half has been fun. But it's nothing more than a bear market rally. Stocks will drop double-digits before the end of the year.
2011: Forget everything you've heard since the financial crisis. THIS is where things start to get ugly. The Eurozone crisis is only the beginning a downturn that will turn out much worse than what you saw in 2008.
2012: Ok, so we didn't get a correction this year. But it's coming. All this political turmoil will sour the stock market for sure…
Seeing a pattern here?
They didn't stop leading into the New Year, either. Many pundits and analysts were looking for a sharp drop following the fiscal cliff debacle–"…unless current law is amended before year-end, the stock market has to fall by at least 30%," predicted Donald Luskin just a few months ago…
Naturally, this negative sentiment has a trickle-down effect on the investing public. This leads to interesting disconnects. For instance, every time bearish sentiment sneaks higher, new stock market rallies begin to unfold…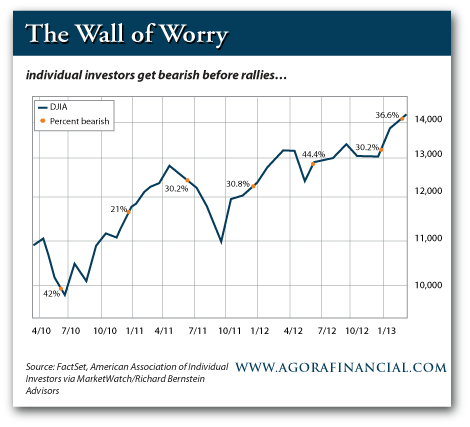 The predictions aren't going to just disappear. Now that the Dow has notched new highs, you can expect more gloom to bubble to the surface.
That's not necessarily a bad thing…
If you think of big, negative predictions as contrarian signals, you could end up buying at just the right moments. Disbelief is a powerful emotion that can fuel rallies much longer than most people expect. Now that stocks are posting highs, you can watch these bearish sentiment spikes to find your next buying opportunity.
Greg Guenthner
for The Daily Reckoning
Forget the Predictions… appeared in the Daily Reckoning. Subscribe to The Daily Reckoning by visiting signup for an Agora Financial newsletter.