Football Stadiums Belong on the Periphery
As a football fan, I'd of course be plenty happy to see the Redskins play someplace more convenient to get to than FedEx Field way out in the middle of nowhere. And as a fan of seeing more development in Washington, DC I usually like development-happy city councilman Jack Evans. But I have a very hard time seeing the logic of this plan:
Evans envisions a $2 billion to $3 billion project to tear down RFK, located on the shores of the Anacostia River just over 20 blocks due east of the Capitol Building, and build a new, 110,000-seat stadium with a retractable roof.
Such a facility could be home to much more than the Redskins, he adds.
"You build a 110,000-seat stadium with a retractable roof, and you get the World Cup," says Evans. "And the Olympics would also be something we could compete for."
The fundamental problem with football in an urban setting is that the NFL plays very few games. You've got 8 regular season home games. Throw in a bit of preseason and playoff appearances and you're still looking at a facility that's empty on 95 percent of days. That's an inherently low-intensity land use and like other low-intensity land uses—farms, airports, etc.—it belongs to be way out somewhere where land is cheap and space is plentiful. Which is to say it belongs far from the city center and, in DC's circumstances, that means outside the city limits. The fact that you might or might not attract some World Cup matches or Olympic events every couple of decades doesn't challenge this calculus in any meaningful way.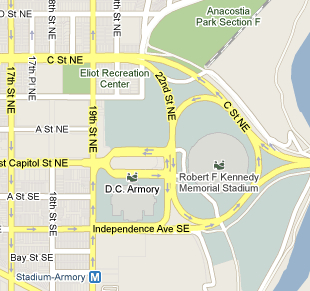 From a pure urban planning perspective the ideal thing would be a combined football/baseball/soccer stadium that would be used quite frequently and could be located nearer to the urban core at a more accessible location. But it seems that football, baseball, and soccer team owners all have a strong preference to play in sport-specific stadia. And fortunately in the United States of America land per se is not in short supply so it's very possible to allocate plenty of land to low-frequency sporting events. But land in the middle of big cities is in fact scarce and should be reserved for things that are used frequently.
So what should be done with the current RFK Stadium site and its associated parking lots? This seems easy to me—build a neighborhood there! We've got empty space, a metro station, river-frontage, everything you could ask for. Demarcate some of the land to be a new park (this is my key concession to the insidious park lobby), sell the rest of it to developers, let them build some stuff, and then watch in amazement as the property tax revenue flows in.