Fee Ratio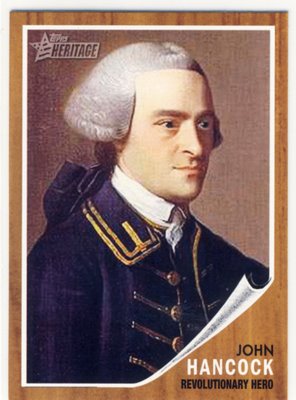 Completely apart from TARP, the financial crisis, and all the rest I find it incredibly frustrating how the mutual fund branch of the financial services industry has managed to use public policy to suck money out of the pockets of the rest of us.
Consider. Like most college educated professionals, my employer offers a 401(k) retirement plan. And thanks to the infinite wisdom of the United States Congress, the tax benefits of saving money through the 401(k) channel rather than through some other mechanism are large. Consequently, I want to save money through this charge. What's more, I really don't want to pay hefty management fees. After all, absolutely everyone who's looked at the issue seriously concludes that mutual fund managers don't add value. But of course I can't just say "I want to save my money in a low-fee 401(k)." I have to do my savings via the 401(k) manager that CAP has contracted with, John Hancock. And as I poke around the John Hancock website it's devilishly difficult to figure out what the actual fees are. If I look at their "International Value Fund" option, for example, the fees are nowhere to be found under the heading of "portfolio highlights." But if I the "other important information" tab I can find the fine print on this subject as follows:
Expense Ratio (ER), also known as the Annual Investment Charge (AIC) This material shows expenses for a specific unit class for investment options available under a John Hancock USA group annuity contract. The Expense Ratio (ER) includes John Hancock USA's administrative maintenance charge (AMC), sales and service fee, and the expenses of any underlying mutual fund (based on expense ratios reported in the most recent prospectuses available as of the date of printing) and is subject to change. John Hancock USA's AMC will be reduced if John Hancock USA or an affiliate receives asset based distribution charges ("12b-1 fees"), sub-transfer agency fees, or other fees from an unaffiliated underlying mutual fund or its agent(s). These fees, collectively, range from 0% to 0.50%. The amount of the AMC charged under each sub-account has been determined net of such fees. The underlying fund expense is determined by the underlying mutual fund company and may be increased or decreased at any time to reflect changes in the expenses of the underlying mutual fund or other factors. In addition, some fund companies charge exchange or redemption fees for mutual fund shares held for less than a certain period of time. Any such charges would be deducted from the value of a participant's account. The ER applies daily at a rate equivalent to the annual rate shown, and may vary to reflect changes in the expenses of an underlying mutual fund and other factors. The ER does not include any contract-level or participant recordkeeping charges. Such charges, if applicable, will reduce the value of a participant's account. For internally-managed Funds advised and sub-advised exclusively by John Hancock's affiliates, the total fees John Hancock and its affiliates receive from these Funds may be higher than those advised or sub-advised exclusively by unaffiliated mutual fund companies. These fees can come from the Fund or trust's Rule 12b-1, sub-transfer agency, management, AMC or other fees, and may vary from Fund to Fund. Except for certain asset allocation portfolios (i.e., the Lifecycle Portfolios, Lifestyle Portfolios, Core Portfolios and the Guaranteed Income Feature Portfolios), John Hancock uses the revenue received from 12b-1, sub-transfer agency, and management fees to determine the AMC for that Fund, such that the sum of 12b-1, sub transfer agency, management fees and AMC received by John Hancock equals 0.50%. For the most current Expense Ratio information available for each investment option, please refer to the most recent monthly "Returns and Fees" listing available from John Hancock USA upon request. For more information, please contact your financial representative.
Got that? It's almost as if they want to make it as hard as humanly possible for you to find out exactly how bad they're screwing you and what steps you can take to minimize the extent to which you get screwed. And after all, why shouldn't they screw me? I'm not the customer. I can't switch to another 401(k) management firm—I'm stuck with the one my employer picked—and when you consider the tax benefits, the 401(k) is still appealing. It's the perfect storm of public policy meeting private sector dysfunction, and naturally nobody in congress seems the slightest bit interested.