Fed Rate Hike Odds Rise After Hotter-Than-Expected Producer Price Data
While still well below Fed mandated levels, the 0.9% year-over-year rise in PPI Final Demand ex Food & Energy is the hottest since March and notably above expectations. While the headline PPI Final Demand YoY has not risen for 8 months, surging prices for chicken eggs (+23%) and apparel (+7%) in August made up a considerable part of the inflation index move and bond yields and stocks are leaking lower on the news ahead of next week's FOMC meeting. The key drivers from the report: Almost half of the August advance in the index for final demand services is attributable to margins for apparel, footwear, and accessories retailing, which jumped 7.0 percent. The indexes for automotive fuels and lubricants retailing; securities brokerage, dealing, investment advice, and related services; wireless telecommunication services; residential real estate loans (partial); and inpatient care also moved higher. In contrast, prices for airline passenger services declined 1.6 percent. The indexes for machinery and equipment wholesaling and guestroom rental also fell. Accounting for nearly two-thirds of the decline in the final demand goods index, prices for gasoline fell 7.7 percent. The indexes for jet fuel, grains, iron and steel scrap, home heating oil, and light motor trucks also moved lower. In contrast, the index for chicken eggs surged 23.2 percent. Prices for residential natural gas and for search, detection, navigation, and guidance systems and equipment also increased. PPI has now beaten expectations for 3 months in a row and stands at 6 month highs: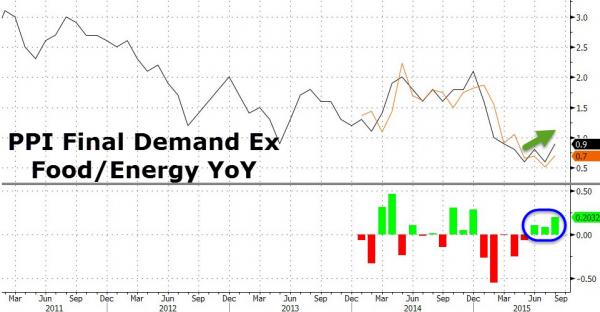 And the breakdown: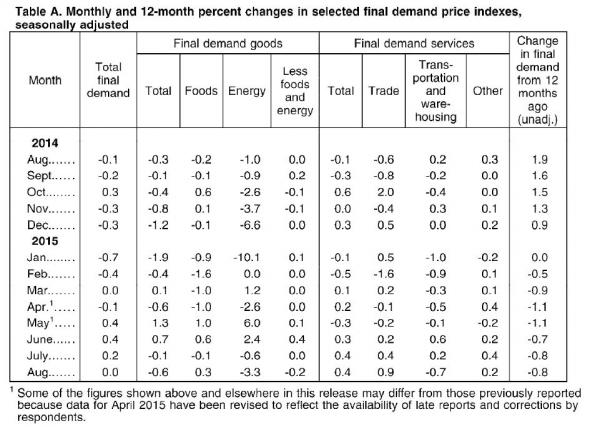 With wholesale inflation starting to creep up, is the fate of the Fed's "most expected announcement ever" all but assured? * * * September rate hike odds have risen from 25% to 28% since PPI printed (and bond yields, stocks, and the dollar are sliding). And while stocks have done nothing in the wake of the report, there has been an ominous move higher in Treasury prices:
UST 10Y YIELD EXTENDS DROP, TOUCHES 2.188%
TREASURIES EXTEND GAINS; 30Y YIELD TOUCHES 2.936%
Remember: if the Fed hikes, the only thing that matters is the long-end: if yields drop, it means the market is convinced the Fed just engaged in a massive policy error, and curve inversion and a recession may be imminent.