FDA panel approves 'female Viagra' despite side effects and warning it could be the new date rape drug
WASHINGTON — The first "female Viagra" came one step closer to coming to market as a key advisory committee to the Food and Drug Administration voted Thursday afternoon to recommend that the FDA approve the drug with conditions.
The committee voted 18-6 to recommend that the FDA approve flibanserin, a drug designed to boost the low sexual desire of otherwise healthy women.
The FDA usually follows the recommendations of its advisory committees, but not always. Its decision is expected by the end of the summer. The agency has already rejected the drug twice, saying the potential side effects of fainting, nausea, dizziness, sleepiness and low-blood pressure outweighed its benefits.
Even on Thursday, the committee described the drug benefit as "moderate" or "marginal."
But after an afternoon of emotional testimony from women who suffer from low sexual desire, a condition called Hypoactive Sexual Desire Disorder, the majority of committee members said that, with proper warning labels and education, the drug should be made available to women who now have nothing.
One practitioner said that when her patients asked her for help, "This is all I can tell them." And then she stood in front of the microphone in silence for several uncomfortable minutes.
Some of the women speaking Thursday described the condition as if a switch had gone off, they don't understand why they no longer want to have sex, and find it distressing.
Before a packed hearing room, Sprout Pharmaceuticals, developers of the drug, presented the results of a series of double-blind clinical trials that showed the drug worked better than placebo to boost women's sexual desire, increased the number of sexually satisfying events and lowered women's distress at the loss of their libido.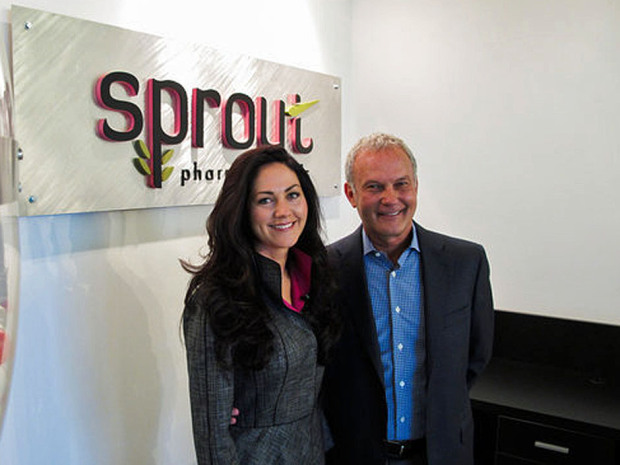 Allen G. Breed / Associated PressCindy and Robert Whitehead, co-founders of Sprout Pharmaceuticals, at its headquarters in Raleigh, N.C., in 2013.
Related

Sexless marriages are a 'silent epidemic,' but it doesn't have to be that way, U.K. therapist argues
After 24 weeks, they said, 46 to 60 percent of the women in the trials had benefited from the flibanserin treatment. But some committee members said, after adjusting the data to take the placebo effect into account, the drug wound up helping only about 10 percent of the women in the trials.
More than half the women diagnosed with low sexual desire have turned in desperation to unproven, unregulated and potentially unsafe treatments they read about on the Internet or in magazines, which could pose health risks, the pharmaceutical company presenters said. Some of those testifying were health-care practitioners who said many women have turned to such "snake oil" with dangerous results.
Although the FDA approved Viagra for men in 1998, and a host of products since then, the FDA has not okayed any medications for women's sexual function. The FDA describes this as an "unmet medical need." Flibanserin, first developed as an anti-depressant, works on neurotransmitters in the brain that afffect sexual desire.
In their presentation, FDA medical officers outlined a host of safety concerns about the drug and raised the question of the day: Whether the risks of the side effects outweighed the benefit of the drug.
The most common side effects include dizziness, nausea, fainting and sleepiness. Some women had to stop taking the drug because of the side effects, and one reacted so poorly that she had to be hospitalized.
[youtube=http://www.youtube.com/watch?v=HVLdvICWzOY&w=620&h=465]
FDA officials are concerned about flibanserin's interaction with other drugs — particularly with hormonal birth control pills and alcohol — and the potential for flibanserin to increase accidents, from car accidents to falls and other mishaps.
Some committee members were also worried about one two-year cancer study that found an increased risk in breast cancer tumors in mice that were given four times the therapeutic dose of 100 milligrams daily. One advisory panel called the potential link to cancer a "show stopper."
FDA officials said most flibanserin trials lasted one year to 18 months. "That, in our opinion, is not enough to assess the risk of cancer development," one official said. Sprout officials explained that increased tumors in one sex in animal studies have not been found to predict cancers in humans.
Another member of the panel raised concern that the drug could be used as a "date rape" drug. The drug maker said that the drug was slow-acting and could make women sleepy, but not incapacitated.
After the vote, which many said was "difficult," the advisory committee began to work on conditions that they would recommend accompany any FDA approval, including warning labels, an education program, prescriber training and certification. They are most concerned that the drug not be used with alcohol, with certain drugs, or by pregnant women.
Some panel members who voted against approval said that the data wasn't good enough, and the benefits weren't strong enough to warrant approval, given the side effects.
"I recognize people are suffering," said Diane Aronson. "I just think they deserve better."
Some speakers urged the committee members to reject the drug. Some said that while the condition of low sexual desire was real and painful, flibanserin wasn't the answer. They said the drug's success was due more to a slick marketing campaign put together by Sprout than to good science.
Others warned that the pharmaceutical company had "deceived women into taking a drug that doesn't work better than drinking a glass of wine or two, and could end up killing us," said Liz Canner, a film maker who produced the documentary, Orgasm, Inc., about the medical communities quest for female viagra and the big bucks that could ensue.
Sally Greenberg, executive director of the National Consumers League,said she spent the day talking with women diagnosed with low sexual desire who are pushing for a treatment.
"It's very destructive to their relationships, to their families and their self image," she said. "We know this is a problem with their brain chemistry. Just like depression. And, just like depression, their brain chemistry can be adjusted. We can treat it. And we should treat it."
To Greenberg, the committee vote was a historic moment. "I think this is a huge moment for women's sexual health, in the way that the pill was for women's sexual health and ability to control their own destiny," she said.