Fatal stabbing at Jerusalem Gay Pride march sparks 'soul searching' over anti-LGBT rhetoric
JERUSALEM — In the aftermath of the stabbing attack at last week's Jerusalem Gay Pride parade that left a 16-year-old Shira Banki dead and five other marchers wounded, Israelis find themselves embroiled in an intense debate, the heart of which is the degree to which society is responsible for the actions of its individuals.
One side of the debate sees the attacker, Yishai Shlissel, as a crazed lone wolf: the only individual to have acted violently towards the LGBT community in years, and therefore not representative of the wider ultra-Orthodox population of which he is part. Others argue that assailant Shlissel is a natural result of the homophobic rhetoric used by certain political and religious leaders which masquerades as religious discourse. So ingrained in Shlissel is his anti-gay vitriol that only weeks after his release from a ten-year jail sentence for stabbing spectators at the same parade in 2004, he repeated his act with lethal precision.
"This individual (Shlissel), he is not detached from the society that we live in … you cannot detach what people are saying from what people will do in the end," Tom Canning, director of development at the Open House LGBT community center in Jerusalem, told The Media Line. Canning was careful to say that he did not lay the blame on the Orthodox or ultra-Orthodox society as a whole, but on certain rabbis and community leaders whose words encourage violence. "I think that they are directly linked. Even after the attack by Shlissel there has been graffiti praising him and there have been protests praising him and taunting the (LGBT) community."
Although Jerusalem is generally considered to be a safe city for the LGBT community, that assumption is beginning to be questioned following Banki's death, Canning said. "Specifically after this attack we are worried about Lehava activists … and also copycats that might want to repeat what Yishai Shlissel did," he said referring to the far-right wing nationalist organization that seeks to prevent Jewish women from dating non-Jews, particularly Arabs. The group was linked to the firebombing of a Hebrew-Arabic high school in November of last year and prior to the Gay Pride event announced that its members would demonstrate against the parade.
Canning pointed to comments by parliamentarian Bezalel Smotrich, a member of the "Jewish Home" party, who once tried to lead a procession of donkeys through Jerusalem as a "parade of beasts" protest against the Gay Pride event, as an example of the arguably dangerous rhetoric made by some opinion leaders. Smotrich has been criticized for comments he made recently accusing leftwing and LGBT activists of conducting a witch hunt against any individuals who disagree with same-sex marriage.
Shlissel's attack has left the ultra-Orthodox community in a troubled position, balancing its wish to denounce violence against maintaining its opposition to the Gay Pride parade. Dov Lipman, a member of the haredi (ultra-Orthodox) community and former lawmaker — albeit with the secular Yesh Atid party — told The Media Line, "There is confusion because this is one person in the last ten years who has attacked a gay parade twice — it is not a policy that is part of the community." According to Lipman, "Some soul searching is going on where there is a recognition that using some terminology without an intent to lead to violence can lead to violence."
The lack of vocal condemnation of Shlissel's actions by ultra-Orthodox leaders should not be misunderstood as support for the attack, Lipman said. Although many people sympathized with the perpetrator's beliefs, there has been no indication that there is support among the community for his use of violence, Lipman said. He explained that the problem is that homosexuality is such a taboo subject among the ultra-Orthodox that many rabbis are simply choosing not to talk about the subject.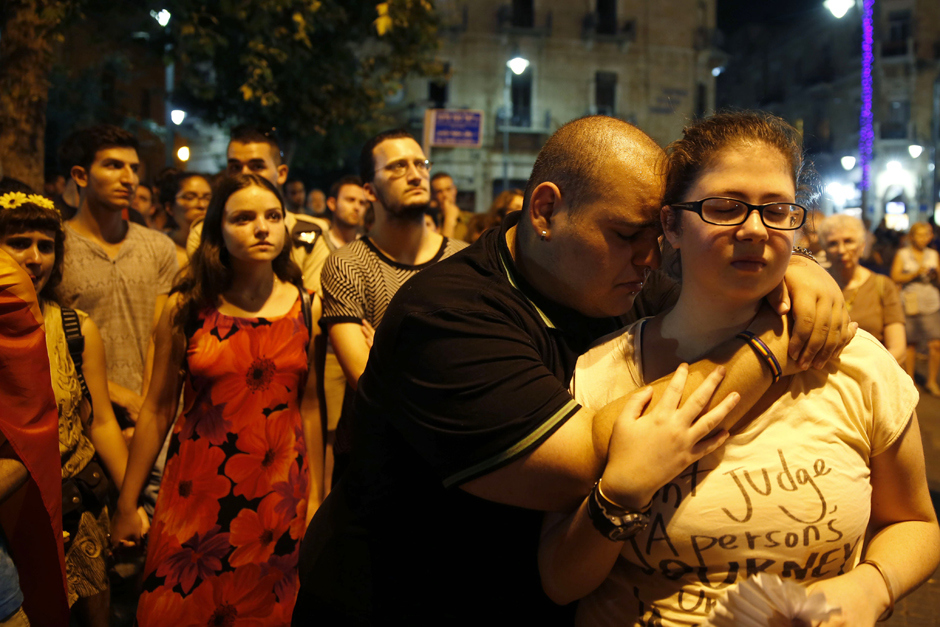 Gali Tibbon/AFP/Getty ImagesHundreds of friends, classmates, teachers, members of the gay community and supporters take part in a gathering in downtown Jerusalem on August 2, 2015 to mourn the death of Israeli Shira Banki who was stabbed at the Jerusalem Gay Pride march and died later.
Lipman believes that this refusal to even acknowledge homosexuality is changing slightly with the emergence of a younger generation of rabbis — a generation which is accepting that as in all societies some, ultra-Orthodox people were likely to be homosexual, and that by hiding from the fact other issues such as child abuse were occurring.
Part of the problem with trying to identify how prevalent violence towards the LGBT community is, is the fact that Israel does not compile complete statistics on hate-crimes. If a person assaults their neighbour and then sprays homophobic graffiti on the front of their house, this is not recorded as a hate crime, but simply as an assault stemming from a dispute between neighbors, Ayala Katz, whose gay son was shot dead in 2009, told The Media Line. In response to this lack of information, the Nir Katz Center, named after Ayala's son who died in an attack on a Tel Aviv LGBT youth center, was founded with the aim to collect statistics on hate crimes against LGBT people.
When asked about attacks on LGBT people Luba Samri, a spokesperson for the Israeli Police, said that no specific unit was tasked with dealing with hate crimes directed towards homosexuals. Specialist task forces are put together on an ad-hoc basis when an investigation into a serious crime is launched, she said.
Related

"Politicians have a great responsibility and their statements have impact," Michal Rozin, a member of Knesset (parliament) of the Meretz Party, told The Media Line. "While those who commit hate crimes are extremists from the fringes of society, these margins thrive in the discourse of hatred and exclusion of the other. Words have power, and it is important that Israeli politicians learn that lesson," Rozin said, asserting that, "In order to prevent more Shlissels from developing, it is necessary to improve dialogue and encourage pluralism in society."
By way of example, Rozin pointed to a scene she had witnessed in Jerusalem's Zion Square in the days after Banki's death. While a group of young people sat shiva — the traditional Jewish seven days of mourning — for the sixteen year old, some teens approached the gathering and cursed the mourners for being homosexual, "Like they haven't learned a thing."
The Media Line