Exports and Services
I saw Michigan Governor Jennifer Granholm at CAPAF earlier today and she naturally went on at some length about the importance of preserving manufacturing employment. In the course of doing so she very briefly made the more nuanced point that manufacturing activity supports considerable employment in manufacturing-related services. A new brief from Michael J. Ferrantino, Danielle Trachtenberg, Alison Weingarden (which I think I saw through Ryan Avent) called "Can the US manufacture employment through exports?" posits that this is going to be a crucial point moving forward.
Their answer to the question is, basically, no. Given the rate of productivity growth in manufacturing, there's no plausible volume of exports that's going to sustainably increase manufacturing employment. But that doesn't mean that exporting more goods won't boost employment: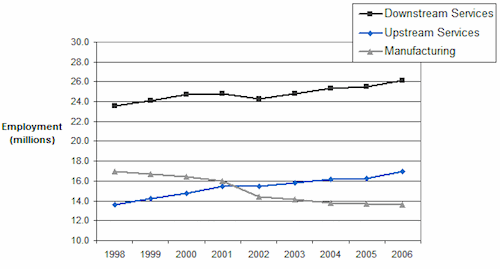 What we're seeing here is that during the pre-recession slump in manufacturing employment—a period in which manufacturing output was growing thanks to increases in productivity—that employment in services related to manufacturing was going up. What kind of services? "Upstream" services are basically professional services and office work related to the operation of the factory. It takes a lot of accountants to run General Motors. "Downstream" services are wholesaling and transportation. When output collapses, this dries up, but if we had an export-driven increase in output we'd see increases in these fields even if manufacturing employment per se doesn't really rise.