Ex-IMF chief Dominique Strauss-Kahn to be tried in France on aggravated pimping charges
PARIS — Former International Monetary Fund chief Dominique Strauss-Kahn will have to defend himself in a French court on charges of aggravated pimping despite recommendations by prosecutors that the charges be dropped.
Judges investigating the case in the northern city of Lille decided on Friday to go ahead with charges of aggravated pimping in a group.
The case revolves around an alleged hotel prostitution ring and hinges on whether Strauss-Kahn knew he was partying with prostitutes and whose money was used to pay them. His lawyers have said Strauss-Kahn had attended "libertine" gatherings but did not know that some women there were paid.
A total of 14 people, including Strauss-Kahn, are to be tried on aggravated pimping in a group. A more serious charge of organized pimping was dropped.
Related

Dominique Strauss-Kahn and wife Anne Sinclair announce split
Dominique Strauss-Kahn referred to female orgy guests as 'equipment': report
In France, it is not against the law to pay for sex, but is against the law to solicit or to run a prostitution business.
Prostitutes questioned in the case said they had sex with Strauss-Kahn during 2010 and 2011 at a luxury hotel in Paris, at a restaurant in the French capital and also in Washington, where he lived while working for the Washington-based IMF, judicial officials have said.
No trial date was set.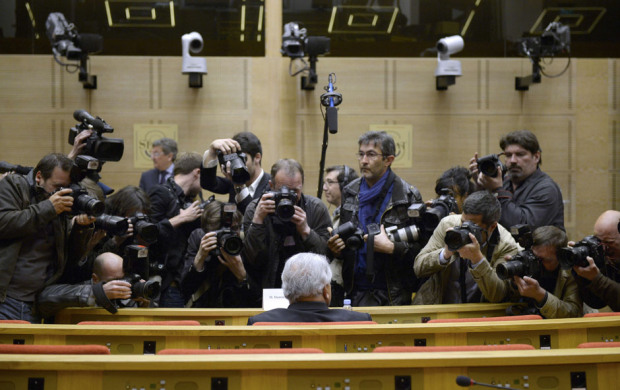 MARTIN BUREAU/AFP/Getty ImagesStrauss-Kahn surrounded by reporters upon his arrival for a hearing before an investigation committee on capital flight at the French Senate on June 26.
Prosecutors in June had asked for the case against Strauss-Kahn to be dropped on the grounds of lack of evidence, though they agreed charges against the others should be maintained.
The case in Lille put the 64-year-old Strauss-Kahn back in the spotlight after his arrest in New York in May 2011 following allegations by a Manhattan hotel maid that he had sexually assaulted her.
He resigned as IMF chief before those charges were dropped. The New York case also cut short any political aspirations at home for the former French economy minister. He had been widely seen as a presidential contender.
He did not commit the offence of prostitution. He neither aided nor assisted prostitution
Frederique Baulieu, one of Strauss-Kahn's lawyers, said her client committed no infraction in the Lille case.
"He did not commit the offence of prostitution. He neither aided nor assisted prostitution," Baulieu said by telephone. She claimed the judges based their decision on "morals" not on law.
"In very calm and serene fashion, we await a public debate that will show the absurdity of this decision," Baulieu said.
In June, the Lille prosecutor's office said it had followed a "deep and meticulous analysis" of the 33 files that form the case before concluding there was insufficient evidence against Strauss-Kahn.