This is everything boxing champion Floyd Mayweather eats and drinks for breakfast, lunch, and dinner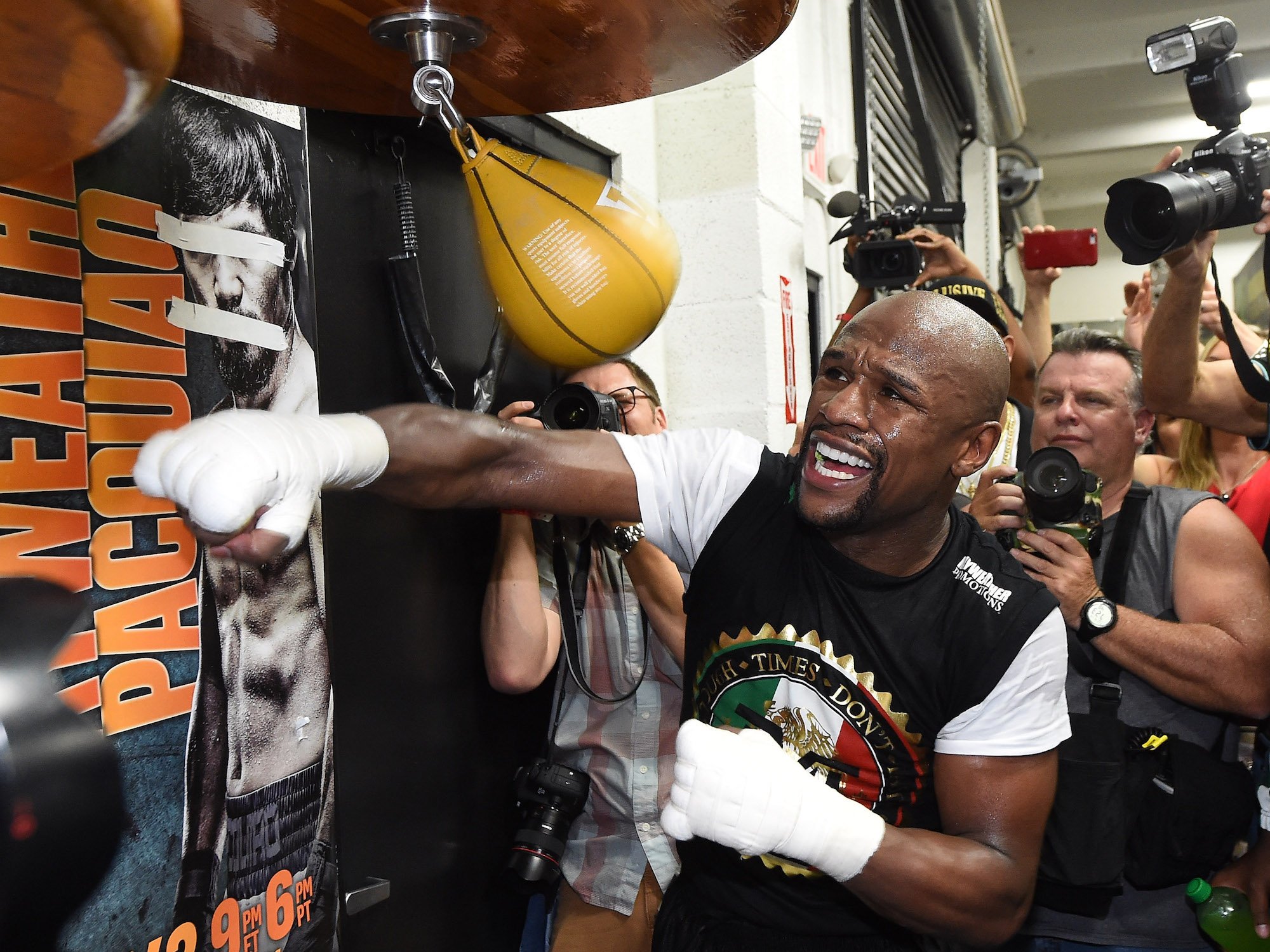 Getty Images
Floyd Mayweather may have announced his retirement from boxing last year, but he could be tempted to transition to mixed martial arts and fight in UFC.
For Mayweather, "It's all about presenting the right numbers." And that means he wants to get paid big bucks for his blood, sweat, and tears.
If he does compete in a UFC octagon, he could go on to fight multiple times — perhaps, even, on a billion dollar deal.
Mayweather may be 41 years old and attempting another sport late on in life, but the American took hardly any damage throughout his 50 professional boxing bouts and is a disciplined athlete.
To maintain his sporting dominance, Mayweather has to eat right. So what sort of food does a former five-weight world champion fighter eat?
Here's everything Mayweather likes to have for breakfast, lunch, and dinner.This is Floyd Mayweather, a retired boxer renowned for his victories against Oscar de la Hoya, Saúl Álvarez, and Manny Pacquiao (below). Mayweather concluded his boxing career with a win over UFC fighter Conor McGregor last year, and will be remembered for his defensive prowess, extraordinary technique, and dedication to his craft.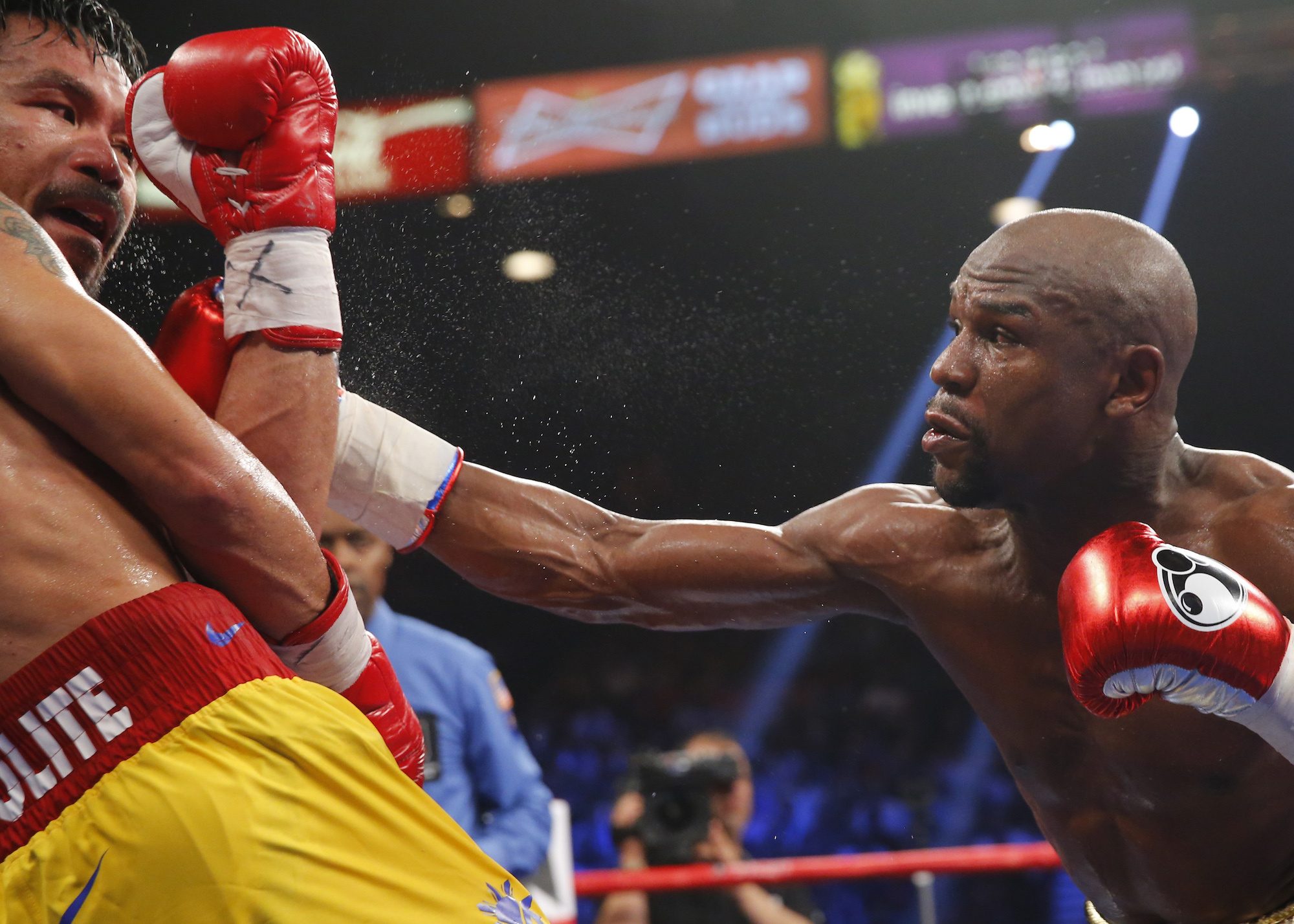 Reuters
To get ring ready, Mayweather employed personal chefs to provide meal plans throughout the day. A typical breakfast includes eggs, grits, and home fries. He also chows down on turkey sausage and turkey kielbasa. For Mayweather, a view might be just as important as the breakfast itself — so here he is enjoying a morning meal in Hawaii.
Instagram Embed: //instagram.com/p/jkB2paR3fN/embed Width: 658px
Source: Esquire.
Mayweather hardly needs any help staying alert in the ring as he was always one of the best 12-round fighters in the game. Regardless, he is not averse to coffee.
Tweet Embed: //twitter.com/mims/statuses/766471215334629377?ref_src=twsrc%5Etfw 2/ there's no better place for a quick coffee break than Bogota, Colombia. pic.twitter.com/tGw9nWvgw8
Source: Twitter.
See the rest of the story at Business InsiderSee Also:
2018 NFL MOCK DRAFT: What the experts are predicting for the first-round
Floyd Mayweather's Instagram shows him living his best life in the Caribbean just a week after a gunman sprayed bullets at his entourage
Manny Pacquiao sacked his boxing coach of 16 years through a press release
SEE ALSO: Floyd Mayweather's Instagram shows him living his best life in the Caribbean just a week after a gunman sprayed bullets at his entourage
DON'T MISS: Rumours suggest Floyd Mayweather will fight Conor McGregor with modified rules — but they'll benefit only one man
UP NEXT: The gunman who sprayed bullets at Floyd Mayweather's motorcade was reportedly targeting the boxer's entourage