Europe's Surreal Sovereign Debt Markets
Erwan Mahe submits:Given today's title, so far removed from the usual macroeconomic, asset allocation or option strategy topics covered here, many of you must be thinking that the tension on financial markets has finally affected my mental stability. However, it may be that the Surrealism of the image's artist, René Magritte, describes perfectly the situation on markets today.
When asked about the absurdity of his sentence ("This is not a pipe" in English), he replied that the pipe was nothing more than an image ("Can you fill my pipe?"). He thus argued that if he had written, "This is a pipe", it would have been a lie. Europe and its sovereign debt markets also seem to exist in this Surrealistic environment today, since the spread between German and Greek government debt fluctuates wildly, moving as much as 100 bps from one day to the next, depending on the comment by any political official, even non-decision-makers. Such is the context in which this once daily note's publication frequency must be seen. After years of daily publication, I am no longer able to give a clear and consistent interpretation of financial asset behaviour on the basis of the daily newsflow. Our longstanding readers know very well our core scenario since the death of securitisation in May 2007, that the stalling of money supply velocity, combined with Chino-Germanic deflationist pressures, will continue to make the current worldwide adjustment of balance sheets very painful, thereby, propping up the prices of government fixed-rate instruments, while rendering risky asset investments hazardous. (For more on this topic, check out the point on American bank balance sheets in the Thaler's of 12 April, entitled, "Alice's Rabbit Hole... The grand return of SIVs"). Especially since the level of some commodity prices seems to have more to do with market fashion [ETF] relating to the Chinese fantasyland for which we continue to anticipate just that much more of a rough Minsky Path in that the country has no experience in this type of crisis. However, none of this prevented me from advising in recent weeks that investors slow down on positions that bet on the decline of interest rates on the short part of the yield curve by proposing delta negative strategies on the Schatz, marking a big change for this note, and from ending our put spreads or ratio ladder on Eurostoxx strategies, given our concerns that investment flows, especially retail, will continue toward this asset class. As much as the strategies on Eurostoxx options paid off, those on Schatz options turned out to be a disappointment, made even worse by the fact that this tactical bias was predicated on the conviction that Europe would resolve its Greek crisis and that the ECB's moves to gradually withdraw cash support for money markets would make short-term rates trend toward Refi rates (1%). All these considerations are now on the back burner, since we have to see if national parliaments will or will not approve the Greek bail-out plan. Will Europe turn its back on its struggling member-states? Portrait of Edward James Magritte, 1937.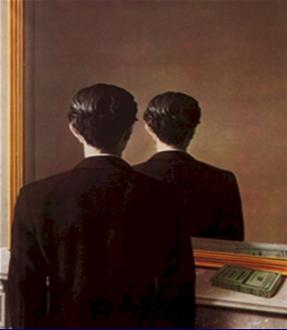 Good luck. Asset allocation biases: I have let them be, for what their worth….
Interest rates: We consider that history is still on the side of flattening, and our choices in maturities and structures, below, bring an added measure of protection, as long as German government spokesmen can keep their mouths shut for a while.
Equities: Sorry about the still murky stock markets which, on the other hand, can be seen in the very low implied volatility levels of Eurostoxx options. The opportunist switches (long or short) against long option positions (calls or puts), carried out in recent days, are working out very well (gamma + Véga)!
Author's Disclosure: long 20 years OAT and 30 years BTP Zero Coupons, EDF Corp 5 Years 4.5%, Grece 2 Y and 10 Y bondsComplete Story »