European Bond Selloff Continues: Italy 2-Yr Yield 7.46%, Belgium 5.22%, Portugal 16.68%; Greek 1-Yr Yield 310%
The European bond selloff continues unabated, once again led by surging yields on 2-Year bonds pretty much across the board, especially Italy, Belgium, and Portugal.
Italy 2-Year Government Bonds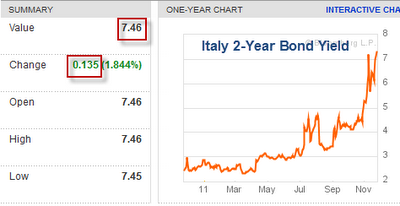 Belgium 2-Year Government Bonds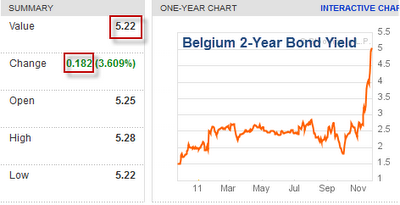 Portugal 2-Year Government Bonds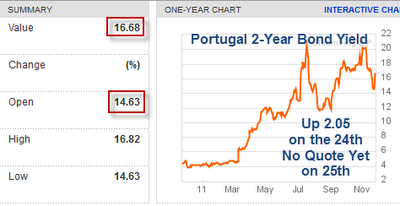 Spain 2-Year Government Bonds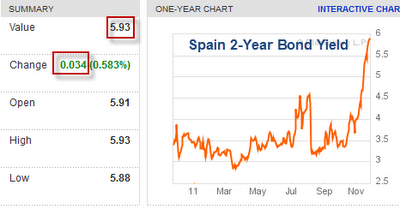 Germany 2-Year Government Bonds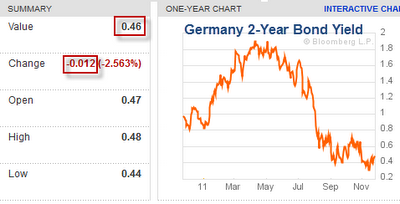 I failed to mention previously that the yield on Greek 1-Year bonds soared over 300% on November 23. Here is the chart.
Greek 1-Year Government Bonds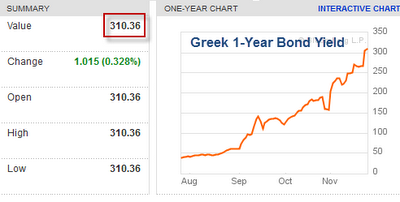 Mike "Mish" Shedlock
http://globaleconomicanalysis.blogspot.com
Click Here To Scroll Thru My Recent Post ListMike "Mish" Shedlock is a registered investment advisor representative for SitkaPacific Capital Management. Sitka Pacific is an asset management firm whose goal is strong performance and low volatility, regardless of market direction.
Visit http://www.sitkapacific.com/account_management.html to learn more about wealth management and capital preservation strategies of Sitka Pacific.